2014 was a food-filled year, if there ever was one. Between scouring supermarket shelves, attending gluten-free product expos, and comparing notes with gluten-free friends, we tried hundreds of new products this year. Though we've shared dozens of great new foods on expo recap posts, Instagram, and Facebook, we thought it was high time to pick some favorites. These are the best gluten-free products (and product lines) we tried in 2014, and the top ten that we enjoy at home and on the road. Which have you tried and loved?
Aldi liveGfree: Best Gluten-Free Product Line
When Aldi introduced the liveGfree line in May 2014, to coincide with National Celiac Awareness Month, the product line was not intended to be permanent. Surprise, surprise! Gluten-free consumers, tired of dealing with sky-high grocery bills, immediately fell in love with the entire liveGfree line. With baking mixes, cookies, crackers, pretzels, frozen dinners, and dry pasta, the Aldi liveGfree line covers all of the bases for gluten-free eaters. The good news is that the product line was a total success, is here to stay, and has even expanded to include bread and soup. Delicious, diverse, and affordable!
Ardenne Farm: Best Gluten-Free Baking Mixes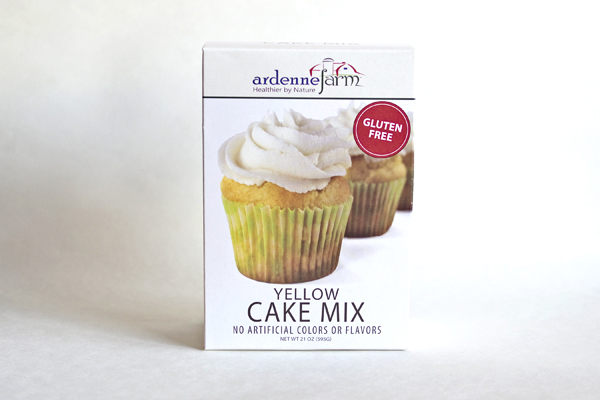 Since discovering Ardenne Farm this past spring, this new company's gluten-free baking mixes have become a fast favorite. The cake mixes couldn't be tastier, and they bake up rich and fluffy every time. The cookie mixes couldn't be easier to make, and the cookies are so good right out of the oven, you'll be lucky if they last more than a few minutes. When in doubt, bake a double batch! Look for them in a Whole Foods near you soon.
Bakery On Main: Best Gluten-Free Breakfast
With all of the travel on our 2014 schedule, we constantly found ourselves in need of healthy gluten-free breakfast options that we could pack in a suitcase or dig into on an airplane. Bakery On Main's gluten-free, non-GMO, and happiness-inducing products quickly became our pick. We love how easy and filling Bakery On Main instant oatmeal is (just add hot water, stir, and enjoy), and we still have trouble not finishing a bag of Bakery On Main granola in one sitting.
Barney Butter: Best On-the-Go Gluten-Free Snack
Like most gluten-free eaters, we never leave the house without a snack or ten, just in case. Instead of packing gluten-free snack bars (can you say crushed and inedible?), we've found Barney Butter to be the perfect snack. These individual almond butter packs each have 100 calories and are full of healthy fats and proteins. Since they're small, they take up next to no space, and they're impossible to crush. Even better? Barney Butter comes in seven flavors to suit every mood! We're partial to honey + flax.
cooksimple: Best Gluten-Free Meal Kits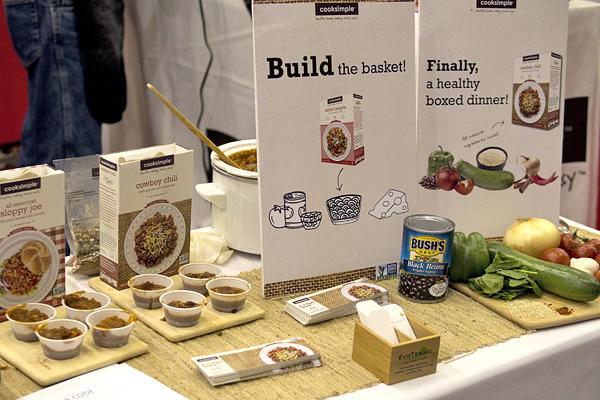 We rarely have time or ingredients to cook a meal from scratch, so we love the meal kits from cooksimple. Each of the ten meal kits comes with not only all of the dry ingredients but also measuring cups that are built into the packaging. An easy-to-read infographic details the additional two or three fresh things needed to complete the meal, and rest assured that these meals are totally customizable. Whether you're feeling like chicken instead of tofu or coconut milk instead of cream, you can make these meals exactly to your liking. We've tried the whole cooksimple line, and our number one pick is a tie between the Punjabi coconut curry and the tamale pie.
i heart keenwah: Best On-the-Go Gluten-Free Snack
See what we did there? Snacks make up such a huge portion of the gluten-free market, we had to pick two favorites from 2014. I heart keenwah's crunchy and sweet snacks are healthy, satisfying, and so great on the go. We love the zesty peanut ginger flavor, but the truth is that all of the flavors are delicious. They've also been reformulated to be vegan, which means nearly everyone can enjoy them. And as if these sweet snacks weren't ingenious enough, i heart keenwah has just introduced a savory quinoa puff. We're already reserving a spot for them on our 2015 roundup!
Sabatasso's: Best Gluten-Free Pizza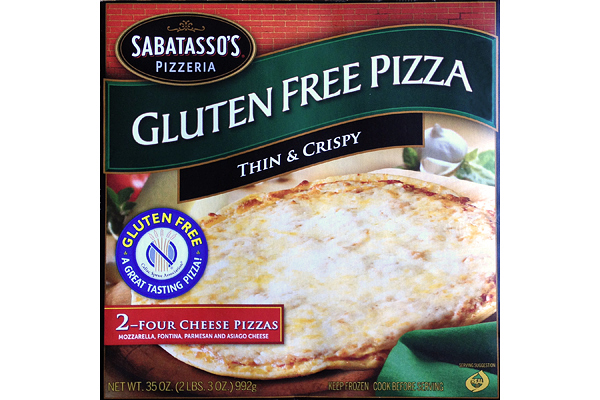 Trust us when we say we've searched far and wide, completed too many taste tests to count, in order to track down the ultimate frozen gluten-free pizza. We proclaimed Sabatasso's gluten-free pizza the winner, with its chewy thin crust, ample cheese, and appeal to both gluten-free and non-gluten-free eaters. Sold at Costco for about $12 for a pack of two pizzas, this is a great deal for a family. While we've heard reports that this pizza is being phased out at Costco locations around the country, we understand that it's sold under a Freschetta label at grocery stores nationwide. We'll keep buying it no matter what it's called!
Send Me Gluten Free: Best Gluten-Free Subscription Box
If you love trying new gluten-free products as much as we do, or if you want to get a taste of something before springing for a full size product, Send Me Gluten Free is exactly what you need. Every month, this box arrives at your door, filled with about a dozen new gluten-free products. You'll find everything from snack bars to baking mixes to gluten-free bouillon cubes, and you're bound to find at least a couple new favorite products. You can subscribe for a month or a year, and you can even gift a subscription, making this the best gluten-free gift.
Tres Pupusas: Best New Gluten-Free Frozen Food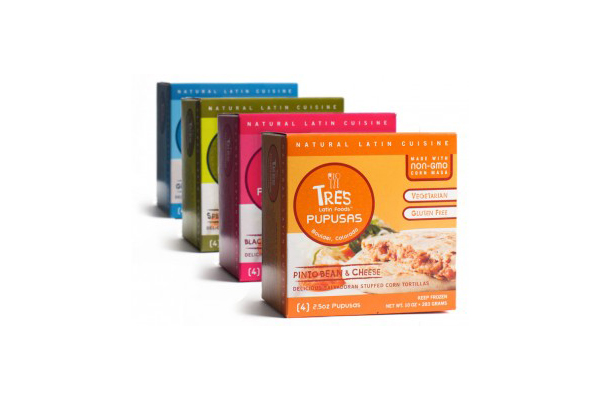 Latin cuisine boasts tons of naturally gluten-free options (hello, masa!), so we're always looking for easy ways to add more to our regular rotation. Tres Pupusas totally won us over with their delicious vegetarian pupusas. These naturally gluten-free goodies start with an organic corn tortilla and are stuffed with a variety of beans, veggies, and cheeses. We love Tres Pupusas both plain and dressed up, and we're looking forward to showing you our favorite ways to enjoy them in January!
Udi's Gluten Free: Best Major Gluten-Free Product Expansion
We've relied on Udi's Gluten Free bread, bagels, and cookies for years, so when this great company launched a series of new offerings this past fall, we couldn't wait to try everything. Udi's steel cut oats make a hot, hearty breakfast, and both the single serving pastas and the frozen burritos make a quick, tasty lunch. The family-size skillet meals are perfect for an easy pasta dinner. If you need a little something extra with dinner, Udi's dinner rolls and crusty baguettes can't be beat. We can't wait to see what Udi's Gluten Free comes up with next!
Bonus! Marks & Spencer Made Without Wheat: Best Gluten-Free Products in the UK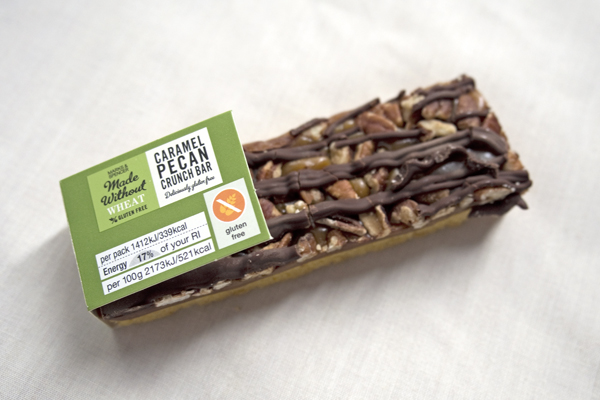 UK hypermarket Marks & Spencer recently introduced the gluten-free line Made Without Wheat for UK customers, and let's just say these products alone are worth a trip across the pond. Made Without Wheat includes everything from prepackaged sandwiches (great for a quick lunch), cheesy crackers, caramel bars, dry pasta, and a full selection of Christmas goodies like mince pies and Christmas pudding. After a visit to London, we found ourselves packing our bags full of these Made Without Wheat goodies to tide us over until next time!
Your turn! What were your favorite new gluten-free products in 2014? Tell us in the comments!