Looking for a nutritious, versatile, delicious, and portable snack to add to your gluten-free arsenal? Granola! We've tried tons of brands, and we always come back to Bakery On Main gluten-free granola. Not only is it hands-down the best tasting, but it's also filled with the things you want and free of the ones you don't. Bakery On Main granola is made with whole nuts, unsulphured dried fruits, seeds, corn, rice, and other tasty wholesome ingredients. It's free from oats, dairy, casein, and GMOs. It's also certified gluten-free, making this granola safe, healthy, and delicious!
Just look at all of the seeds, nuts, and fruit in Bakery on Main's Cranberry Orange Cashew Granola! Check out all of the cranberries, cashews, sunflower seeds, sesame seeds, and flax seeds. Like every Bakery On Main granola flavor, this one also includes the signature corn and rice crisps, which give it a great crunch. The best part of the Cranberry Orange Cashew Granola, though, is the lovely citrusy and spicy undertone, thanks to cinnamon, cloves, and natural flavors. If I had to pick a favorite travel snack, this would be it.
The Nutty Cranberry Maple flavor has a great, subtle flavor, making this the perfect choice for maple fans. Filled with dried cranberries, almonds, pecans, sunflower seeds, sesame seeds, flax seeds, and corn and rice crisps, this granola is filling and delicious. The most subtle in flavor, this is perfect for granola fans who want all of the nuts and seeds without complexities.
Bakery On Main's Extreme Fruit and Nut Granola isn't kidding around. Nut fans, this extreme flavor is for you. With tons of Brazil nuts, hazelnuts, almonds, raisins, coconut, sunflower seeds, sesame seeds, and flax seeds, this is a seriously energy-packed granola. The coconut undertones make this flavor extremely addictive.
Rainforest Banana Nut Granola is our pick for the best breakfast granola. The Brazil nuts, sunflower seeds, banana, coconut, sesame seeds, and crisps come together with a light coconut banana flavor that might inspire you to book a trip somewhere tropical—or at least daydream about it.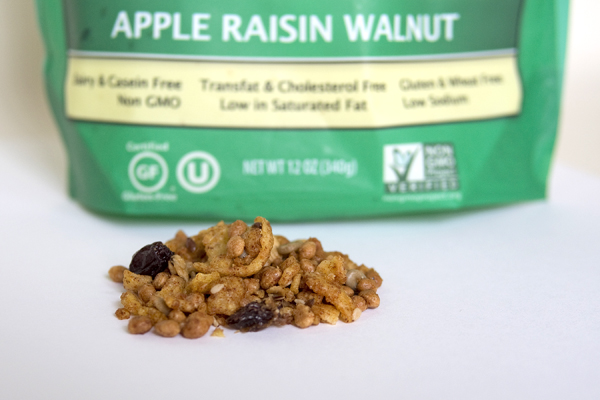 Apple Raisin Walnut Granola is another favorite, thanks to its subtle maple cinnamon flavor and ample nuts and dried fruits. Walnuts, raisins, apples, sunflower seeds, sesame seeds, flax seeds, and spices make this granola taste just like autumn. Like all Bakery on Main gluten-free granola, this is the perfect snack to throw in your bag for work, school, or travel. The only downside is that it's so tasty, it might not last long!
Disclosure: Bakery On Main generously provided us with granola for review. All enthusiasm and opinions are our own.
Where to Buy? Purchase Bakery On Main gluten-free granola on the company's website, through Amazon, and in supermarkets throughout the United States.