At Natural Products Expo East (see our earlier intro post), we had the opportunity to try tons of new gluten-free products, all in the name of research. Now we're excited to share our top picks with you all week long. Here are Gluten-Free Jet Set's top picks for the best sweet gluten-free snacks at Natural Product Expo East.
The Toasted Oat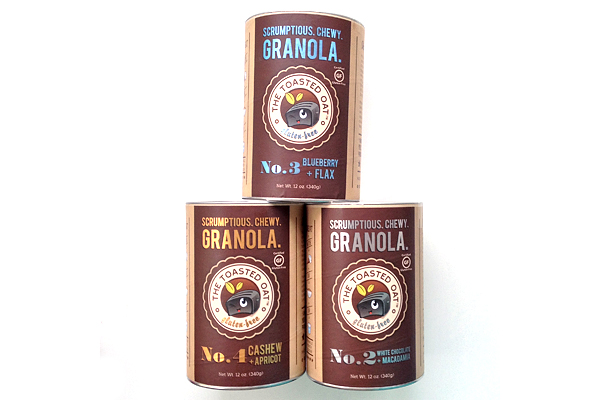 Toasted Oat granola is soft, chewy, sweet, and absolutely scrumptious. Oats can be tricky for some gluten-free eaters, but this certified gluten-free granola is made with gluten-free oats. You can find it in four delicious flavors: peanut & raisin, white chocolate & macadamia, blueberry & flax, and cashew & apricot. Buy this tasty granola through the Toasted Oat's website or at stores around the country.
Laughing Giraffe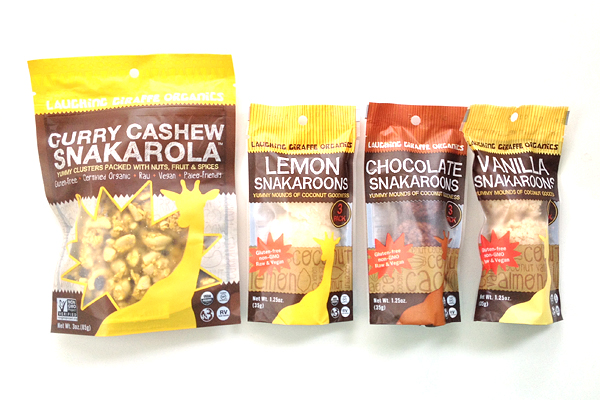 Laughing Giraffe makes gluten-free snacks that are perfect for kids and adults alike. Coconut-and almond-rich macaroons come in vanilla, chocolate, and lemon, and the savory sweet Snakarola is packed with cashews, dried fruit, and spices in curry cashew, cherry ginger, and cran orange varieties. We'll be adding the Snakarola to our regular travel snack rotation. Find all of these snacks on the Laughing Giraffe website or via Amazon.
Charmed Bar
CharmedBar's ingredients, packaging, and founders majorly charmed us. CharmedBars' ingredients are deceptively simple—nuts, nut butter, seeds, dried fruit, and honey—and together they make for an indulgent snack bar that's satisfying with just the right amount of dazzle. Find these snacks on the CharmedBar website and in stores near you.
Steve's Paleo Goods
Steve's Paleo Goods produces an impressive range of gluten-free and paleo-friendly products that includes everything from sweet-salty PaleoKrunch to jerky to dried fruits. Formulated for on-the-go eaters, these products also help support Steve's Club, which provides youth-focused health and nutrition programs. Find these on the Steve's Paleo Goods website and at some Whole Foods stores.
Angie's Boomchickapop
Angie's Boomchickapop burst onto the gluten-free market earlier this year, and we are thrilled to see just how much the company is growing. In addition to their great kettle corn, sweet & spicy, and white cheddar flavors, Angie's has a full range of holiday flavors, including Easter-inspired frosted cupcake and Christmas-inspired white chocolatier peppermint. Find these on Angie's website, via Amazon, and in stores nationwide.
Bixby Bar
Bixby Bar has reinvented the candy bar, with organic chocolate, roasted nuts, dried fruits, and flavorful spices. These bars are certified gluten-free, vegan, and Rainforest Alliance Certified, which means this is candy we can feel good about eating. Find all six of their flavors, with fun names like Whippersnapper and Knockout, on the Bixby & Co. website.
Element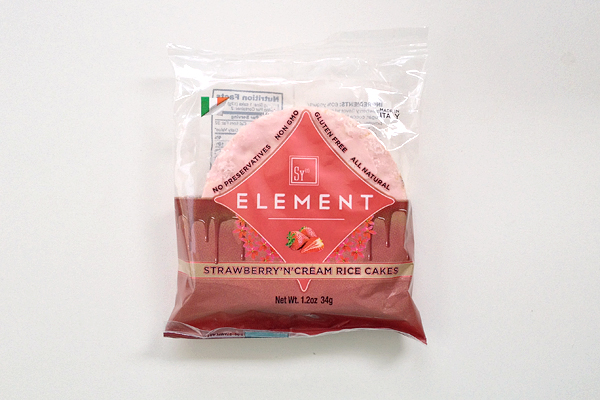 We've all had our share of rice cakes, but Element takes these simple cakes to another level by making them thinner and dipping them in chocolate, strawberry, and orange creme. These Italian-made rice cakes serve as lovely, rich snacks, and we hope to see them distributed in the United States soon. For now, purchase them on Element's website to have them shipped right to your door.
Roo Bar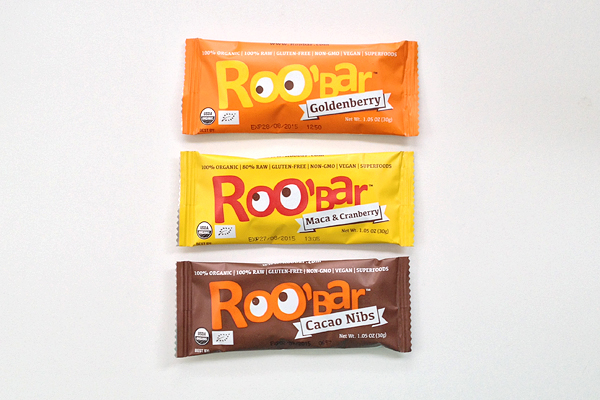 Roo'Bars win my vote for most adorable mascot, and their Bulgarian-made products are fantastic as well. Raw, organic, gluten-free, and packed with superfoods, Roo'Bars have made their way across Europe and Australia. We can't wait to see them in the United States soon.
Goodie Girl
Goodie Girl makes all of the cookies that you've been missing since you went gluten-free. From mint slims to midnight brownie to crunchy chaos (with melted marshmallows!), these are decadent cookies with just the right amount of good. Find these on Goodie Girl's website.
BeeFree
BeeFree snack mixes and cookies are all grainless, gluten-free, and paleo-friendly. The ingredients are simple and energy-packed, with almonds, honey, sunflower seeds, and pumpkin seeds. The Warrior Mix, which comes in a resealable bag, is great for a quick, nutritious snack on the go. Find BeeFree products on the BeeFree website and via Amazon.
Emmy's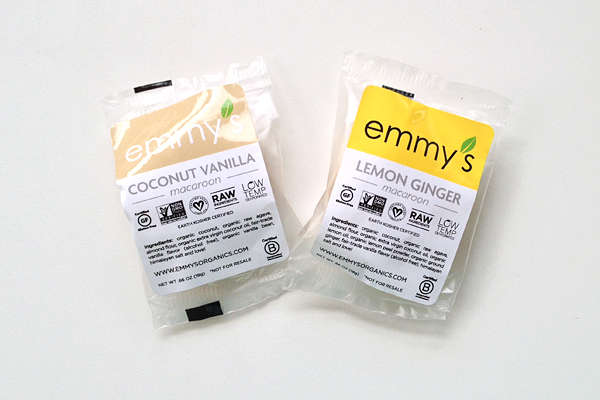 Emmy's Organics makes raw, vegan, certified gluten-free macaroons in several unique flavors, including chai spice, chocolate chili, and mint chip. Packaged in threes and priced reasonably, these are a delicious sweet treat to keep to yourself or share with a couple of lucky friends. Also look for Emmy's Super Cereal, with a sprouted buckwheat base and tasty dried fruits and nuts. Find all of these products on Emmy's website, via Amazon, and in stores.
Santa Barbara Bar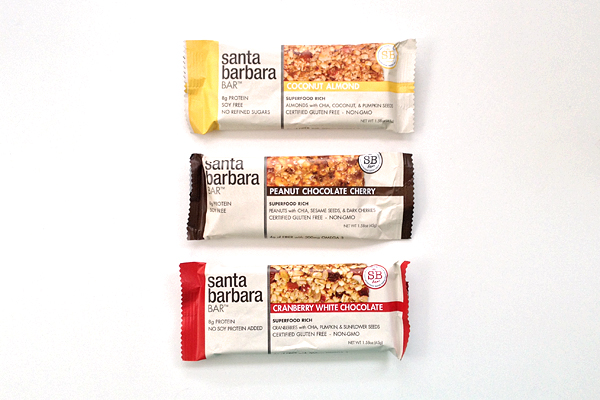 Santa Barbara Bars are made with action and nutrition in mind. Packed with superfoods like chia and pumpkin seeds, these bars are nonGMO, gluten-free, and perfect for keeping healthy and energized on the go. Find these bars on the Santa Barbara Bar website, via Amazon, and in some Santa Barbara area stores.
i heart keenwah
I heart keenwah specializes in unique crunchy quinoa snacks that are certified gluten-free. All of their sweet snacks are now vegan and come in a range of flavors, including chocolate sea salt, ginger peanut, peanut butter cacao, and more. Find these quinoa snacks on i heart keenwah's website, via Amazon, and at stores and airports near you. Stay tuned for a new savory snack from i heart keenwah coming soon!
Munk Pack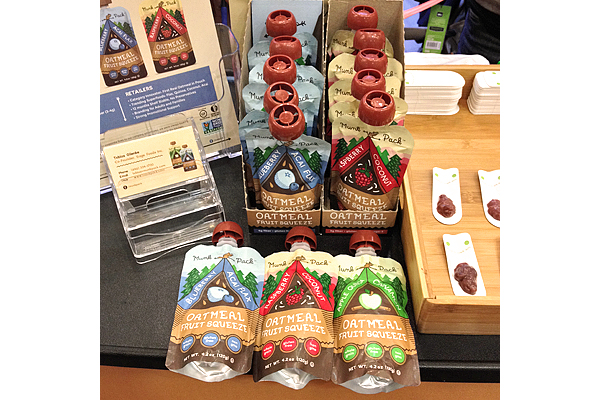 We don't often get excited about fruit snacks, but Munk Pack's oatmeal fruit squeezes are fun, healthy, and packed with good stuff. Gluten-free oats, flax, and fruit mean these squeezable treats are packed with fiber and omega 3s, great for breakfast on the go. Look for these in apple quinoa cinnamon, blueberry açai flax, and raspberry coconut. We hope to see Munk Pack in stores soon!
Taste of Nature
Canadian-made Taste of Nature bars are gluten-free, organic, vegan, and non-GMO. Made with nuts, seeds, rice crisps, and dried fruit, these come in a range of Canadian-inspired flavors, like Quebec Cranberry Carnival and Canadian Maple Forest. Buy them via Amazon for now, and look for them in US stores in the future.
Ardenne Farm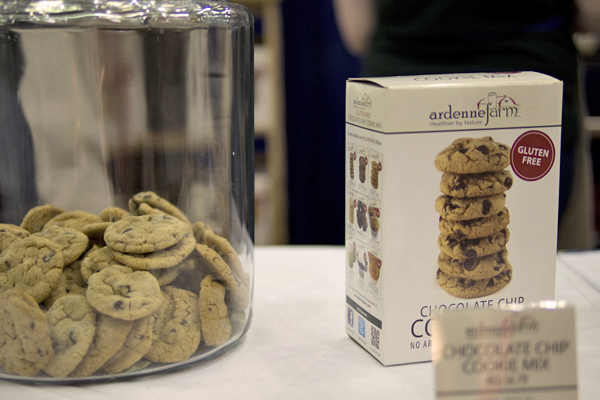 Ardenne Farm makes the best gluten-free baking mixes out there, and to prove it, they won the coveted Best New Gluten-Free Product award at Expo East last week! Their fantastic line of mixes includes everything from cookies to cake to brownies to muffins. Each of these mixes comes out perfectly, with a little something sweet for everyone. Buy these mixes on the Ardenne Farm website or via Amazon. We hope to see these mixes in stores nationwide soon.
Simple Mills
Simple Mills makes baking mixes with a focus on nutritious and responsibly sourced ingredients. Almond flour serves as the base for muffin, cookie, and focaccia mixes, and each includes additional unique components, like dried banana, pumpkin, and fair trade cocoa. Buy these mixes via the Simple Mills website, Amazon or in many Whole Foods and other stores near you.
DF Mavens
DF Mavens churns amazing dairy-free ice cream made with coconut, almond, and soy bases. In addition to dairy-free, this ice cream is also gluten-free, even the mint almond cookie flavor! Find this ice cream at stores around the country and in DF Mavens scoop shops in New York.
Barney Butter
Barney Butter is always peanut-free and gluten-free, and it comes in a rainbow of flavors like vanilla & espresso, honey & flax, cocoa & coconut, smooth, and crunchy. Even better, these are the perfect size for traveling, providing a quick burst of energy on the go. Find these on the Barney Butter website, via Amazon, and in stores.
Check out our earlier post on the best savory gluten-free snacks, and stay tuned for the rest of our picks: frozen foods, quick meals, and travel products!
Disclosure: All product samples were provided by their respective producers. All enthusiasm and opinions are our own.