At Natural Products Expo East (see our earlier intro post), we had the opportunity to try tons of new gluten-free products, all in the name of research. Now we're excited to share our top picks with you all week long. Here are Gluten-Free Jet Set's picks for the best gluten-free quick meals at Natural Product Expo East.
Ancient Harvest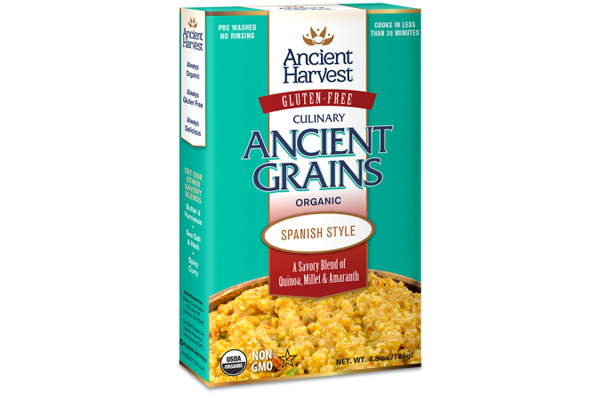 For years, Ancient Harvest has made some of the best quinoa-based gluten-free pasta on the market. With the introduction of new quick meals and breakfasts, this brand keeps getting more and more convenient. Their savory quick meals with ancient grains are particularly great and come in four flavors: butter & parmesan, sea salt & herb, Spanish style, and spicy curry. Be sure to try the supergrain mac & cheese, too! Find Ancient Harvest in stores.
Banza
Alternative pastas made a real splash at Expo East, and Banza was by far our favorite. Made with chickpeas, Banza is both high fiber and high protein, making this a smart choice for your pasta meals. Better yet, it cooks in just a few minutes, which is great for busy families and on-the-go eaters. Buy this pasta on the Banza website, and hopefully in stores soon.
Celebrate Health
Celebrate health is all about healthy convenience, and this shines through in the line of meals. The tasty quinoa meals come in a range of savory flavors, including Moroccan and Indian masala, and the recipe bases include everything from Tuscan meatballs to Chinese stir fry. All are richly spiced and make meal prep simple and quick. As Celebrate Health is an Australian company, products are currently only available in Australian supermarkets. We hope to see them in the US soon!
cooksimple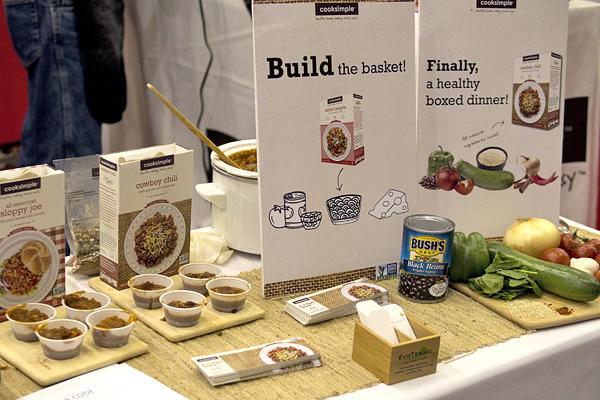 Cooksimple produces a deliciously diverse line of easy-to-make meals that can be kept simple or dressed up any way you like. From sloppy joes to tamale bake to Punjabi coconut curry, these meals require just a few ingredients and are ready within 30 minutes. With 10 to choose from, these couldn't be easier to incorporate into your weekly meal plan! Find cooksimple in stores or via Amazon.
Explore Asian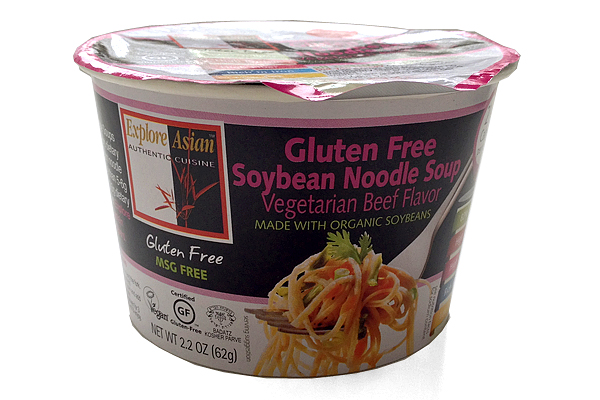 Explore Asian, maker of a variety of protein-packed bean-based pastas, has finally filled in a large gap in the gluten-free market: ramen-style noodle soups. All three of these bowls include soybean noodles, vegetables, and rich broth. The vegetable, beef-flavored, and chicken-flavored bowls are all vegetarian, certified gluten-free, and ready in just minutes. Find Explore Asian in stores.
Kim's Simple Meals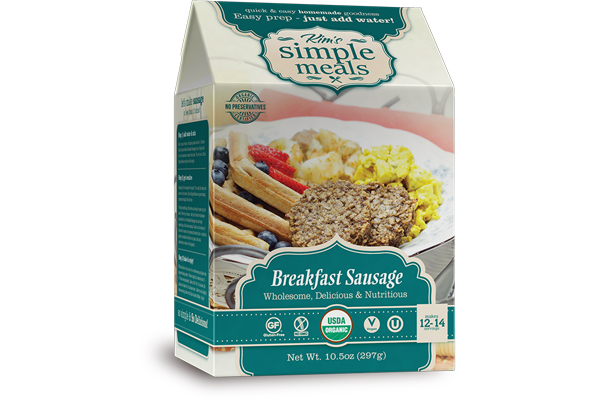 Kim's Simple Meals includes four easy, delicious, and healthy meals, with two for breakfast and two for dinner. Choose from some of the best breakfast sausage and waffles we've had, or go savory and dig into the mac & cheese or homestyle burger. Everything is gluten-free and vegan and can be adapted to a variety of diets and flavor preferences. And did we mention how easy these are? Just add water! Look for Kim's Simple Meals to be available online and in stores soon!
Lundberg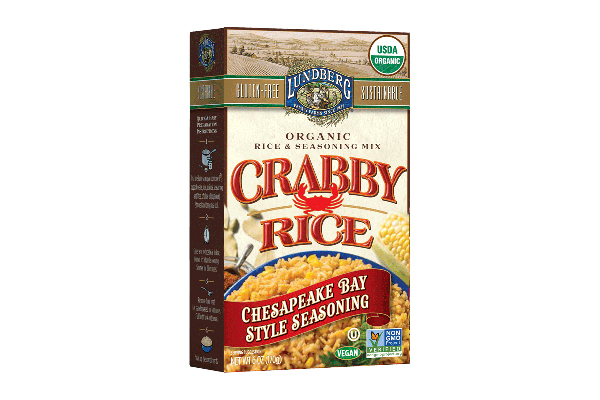 Lundberg's wide range of easy rice and quinoa dishes continue to impress. No matter what you're hungry for, one of these quick meals makes for just the right base or side dish. Choose from wild rice with mushrooms, jambalaya, Peruvian-style quinoa and rice, and a dozen more, all certified gluten-free. Find Lundberg products in stores near you.
Namaste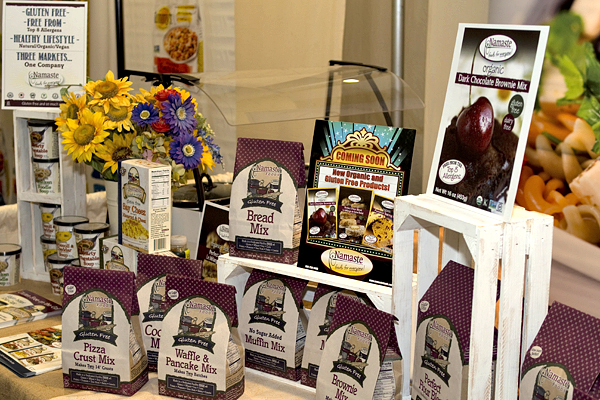 Namaste Foods are free from gluten, soy, corn, potato, dairy, casein, peanuts, and tree nuts, making this line great for allergy-free households. Namaste makes everything from pizza crust mix and muffin mix to mac & cheese and taco-flavored pasta, so that dinner and dessert are always fast and healthy. Find Namaste Foods in stores and via Amazon.
Laurie's Kitchen
Laurie's Kitchen line includes hearty soups and chilis, along with rich pastas with sauce. Choose from cheddar broccoli soup, chicken parmesan truffle pasta, smokey chipotle chili, and more. Most of Laurie's Kitchen products are gluten-free, and all are easy to prepare and make for great comfort food. Find Laurie's Kitchen in stores near you.
Pereg Gourmet
We can never get enough of quinoa, which is not only an ancient grain but also a complete protein and a healthy addition to any meal. Pereg Gourmet makes quinoa in a variety of flavor profiles, for the perfect quick meal every time. Choose from lemon & herb, Italian, mushroom, and more. Find the whole line of quinoa, pasta, and cereal on the Pereg website and via Amazon.
truRoots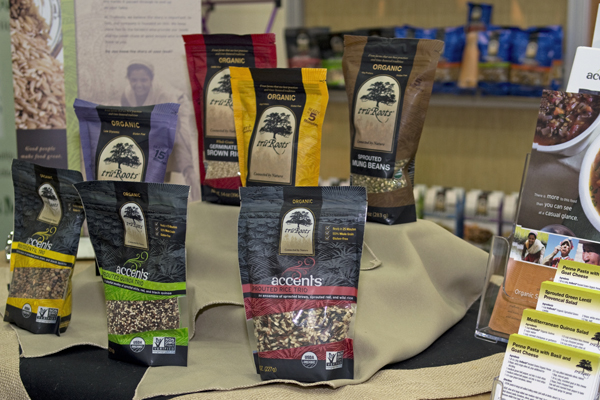 Made with sprouted quinoa, rice, or beans, truRoots Accents are truly nutritious meal bases or sides. Quick, versatile, and healthy, these accents are an easy way to get your meals started. Find truRoots in stores and via Amazon.
Neat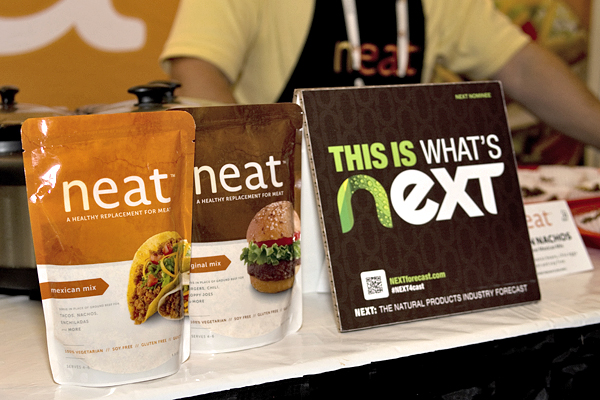 Many gluten-free eaters also avoid dairy, eggs, or meat, and neat is the perfect solution. These soy-free and protein-packed meat replacements are made with chickpeas, nuts, gluten-free oats, and spices. Whether you're hungry for breakfast or dinner, neat has you covered with maple-infused breakfast mix, Italian-inspired mix, and more. Neat has also introduced an egg replacement that's great for everything from the neat "meats" to baked goods. Find neat products via Amazon.
Riega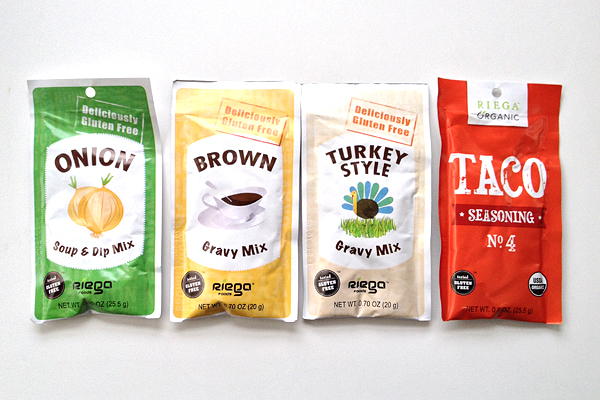 Finding gluten-free seasoning mixes and gravies can be impossible, so we were thrilled to learn about Riega. The line includes taco seasoning, turkey gravy, brown gravy, onion dip, and cheese mixes, so you can top all of your meals with these tasty sauces. Purchase Riega mixes via Amazon.
Check out our earlier posts on the best savory gluten-free snacks, best sweet gluten-free snacks, best frozen foods, and stay tuned for the rest of our picks for best travel products!
Disclosure: All product samples were provided by their respective producers. All enthusiasm and opinions are our own.