After spending three deliciously chaotic days at Natural Products Expo East, we can confirm that this biannual trade show, educational event, and sampling frenzy lived up to the hype. With over 1,300 exhibitors and tens of thousands of attendees, this is a show that requires serious organization, comfortable walking shoes, and a bottomless stomach (or at least a large bag for samples). We tried tons of new gluten-free snacks, all in the name of research, and are excited to share our top picks with you all week long. Here are Gluten-Free Jet Set's top picks for the best savory gluten-free snacks at Natural Product Expo East.
Mediterra
Mediterra offered one of the most surprising finds from Expo East: savory gluten-free bars. They currently make two savory bars, sun-dried tomato with basil and black olive with walnut. Both bars also include pea crisps, amaranth, cashews, and other tasty ingredients. Mediterra also makes equally tasty sweet bars, including apricot & pistachio, cherry & pistachio, orange & honey, and pistachio & honey. Find these online now, and hopefully in stores around the country soon.
Crunchmaster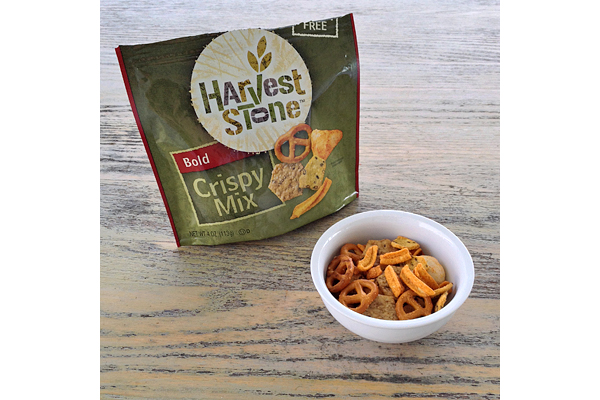 Crunchmaster consistently wins us over with their gluten-free crackers, and now they've taken things to the next level with their new Harvest Stone snack mix line. With pretzels, flax chips, rice chips, corn crunchies, and more, this is like a gluten-free Chex mix only better. Each component has its own flavor profile that complements the others, making for a seriously addictive snack. Look for these in original, bold, and cheese in stores near you soon.
Simple Squares
Simple Squares are exactly that: square snack bars made with a super simple list of ingredients: nuts, honey, vanilla, sea salt, and spices. Simple squares are a little savory and a little sweet, so they can satisfy nearly any craving. New flavors just introduced at Expo East include chili pep and cho-coco, and tried-and-true flavors include sage, ginger, cinna-clove, and more. Find these tasty bars on the Simple Squares website, via Amazon, and in stores around the country.
Navitas Naturals
Navitas Naturals has long provided gluten-free and health-conscious consumers with superfood snacks, and they introduce new flavors, blends, and lines that consistently amaze. Try the Superfood+ line, which includes maca + cashews and coconut + hemp + pepitas, and the Power Snacks line, which includes blueberry hemp and citrus chia. Find these on Navitas Naturals' website, via Amazon, and in stores near you.
Living Intentions
Living Intentions focuses on pure ingredients and sprouted foods, making these some of the healthiest snacks out there. Whether you're looking for nut mixes, trail mixes, sprouted seeds, superfood cereals, sprouted seeds, or sprouted nuts, Living Intentions has you covered, and with some inventive spice blends to boot. Find these snacks on the Living Intentions website, via Amazon.
Alive and Radiant Foods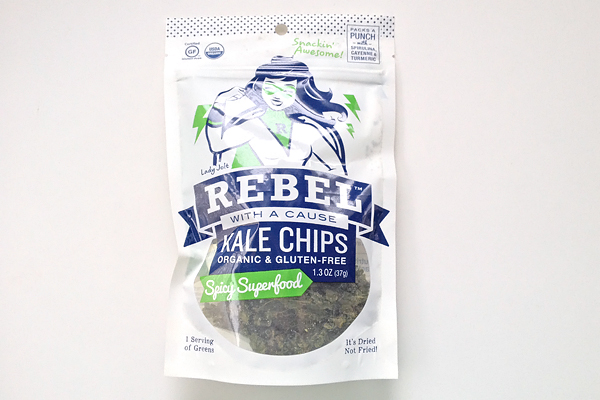 Alive and Radiant Foods makes the number one kale chip on the market, and now they've branched out into superfood kale chips. Brace yourself for some flavorful and healthy snacks packed with spirulina, turmeric, chia, maca, and more. Find these on Alive and Radiant Foods' website, via Amazon, and in stores.
Wild Garden
Wild Garden just introduced a savory snack that couldn't be better for a quick lunch on the go. Keep an eye out for six combinations of hummus and crackers, conveniently packaged together so that you can easily throw this into your school, work, or travel bag. Find these hummus and cracker packs to go on Wild Garden's website.
Mediterranean Snack Foods
Mediterranean Snack Foods are already well-known for their lentil chips, so we were excited to see their new lentil chip and hummus snack packs. Called tapaz2go, these are packaged for easy dipping and eating on the go. Look for these in classic, red pepper, and roasted garlic in stores near you soon and via Amazon.
Wonderfully Raw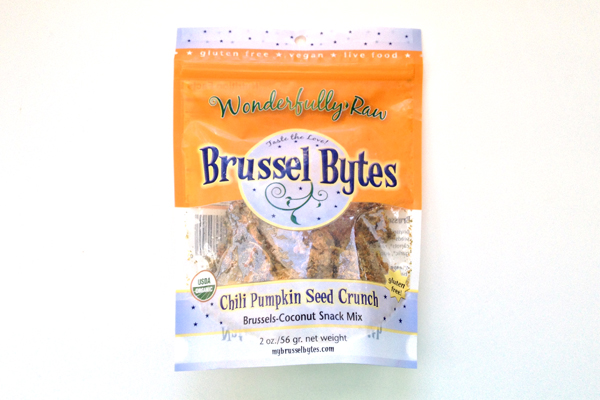 Wonderfully Raw broke into the gluten-free snack market with their legendary Cocoroons and are now expanding into some delicious savory snacks. Look for Brussel Bytes in chili pumpkin seed and tamarind apple and Snip Chips in cheezy herb, chipotle lime, and dill pickle. All are raw, vegan, and gluten-free. Find all of these savory and sweet snacks on Wonderfully Raw's website, via Amazon, and in stores.
Manitoba Harvest
Manitoba Harvest makes all kinds of healthy, happy hemp products to add to your food. From hemp protein powder to hemp hearts, Manitoba Harvest's products are filled with Omega-3s, all 10 essential amino acids, iron, and fiber. We love this resealable travel-sized package of hemp hearts, which makes it so easy to stay healthy on the go. Find Manitoba Harvest products in stores around the United States and via Amazon.
Stay tuned for the rest of our picks: sweet snacks, frozen foods, quick meals, and travel products!
Disclosure: All product samples were provided by their respective producers. All enthusiasm and opinions are our own.