Regular readers will not be surprised to know that we like to indulge in sweets once in awhile. After all, we did an entire series on cake in Vienna, and we visit bakeries as often as our travels allow. Though we love to bake, we rarely have time or ingredients to start from scratch. As a result, we've tested many gluten-free baking mixes over the years—and found most of them to be forgettable. At the Gluten & Allergen-Free Expo in Atlanta, however, we were thrilled to become acquainted with a new-to-us product line: Ardenne Farm gluten-free baking mixes.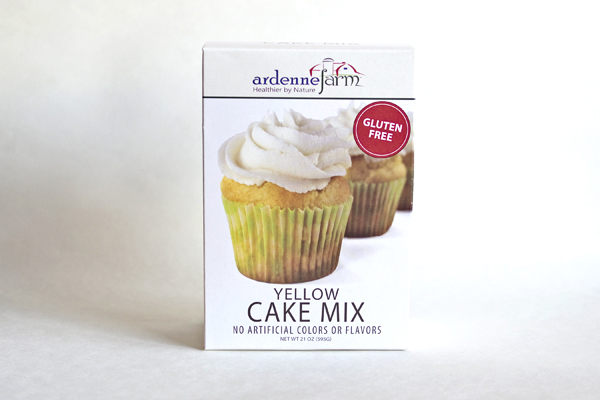 Ardenne Farm produces 9 mixes that run the baking gamut: cookies, cakes, brownies, and muffins. All of Ardenne Farm's products are gluten-free, and the company tests each batch for less than 10 parts per million for gluten. Many of the mixes are free of other allergens as well, including nuts, soy, and casein. The mixes themselves are modifiable to accommodate dairy-free or vegan diets, and the instructions are simple: add butter/oil, egg (or replacement), and liquid; mix; bake; and enjoy.
Ardenne Farm Gluten-Free Cupcakes
When faced with the decision of what to experiment with, we opted to try Ardenne Farm's gluten-free yellow cake mix. While it's one of the most basic options, it's also one of the toughest to get right. Ardenne Farm's version, with its blend of sugar, white and brown rice, cassava flour, dry milk, and other ingredients, blew us away. Not only does the cake have a rich vanilla flavor, but the crumb is nice and soft, and the texture is perfect—no graininess here. It's absolutely delicious and by far the best gluten-free baking mix we've tried.
Ardenne Farm's mix makes two cake layers or 18 cupcakes, so plenty to share. We recommend topping your creation with your favorite buttercream frosting. To make this strawberry buttercream, we simply modified a standard recipe by replacing all liquid with strawberry purée. Hello, new go-to cake mix and hello, strawberry season!
Ardenne Farm's baking mixes are available online via the company's website.
Disclaimer: Ardenne Farm provided us with product for review. All opinions expressed are our own.