This week we're sharing the best gluten-free products from Natural Products Expo West, the biggest natural foods trade show in the U.S. It's tough to pick favorites, but someone's got to do it! Here are our picks for the top gluten-free sweet treats at Natural Product Expo West.
Califia Farms
Cold brew coffee and almond milk are delicious on their own, but when they're blended together in a single beverage, you'd better believe our interest is piqued. And when Califia Farms adds a rich and zesty new flavor like Mocha Mexica to the mix, we can't get enough. Remind us how large an acceptable serving size is? Buy Califia Farms cold brew coffee at stores nationwide. Look for the new Mocha Mexica flavor to hit stores soon.
Eat Pastry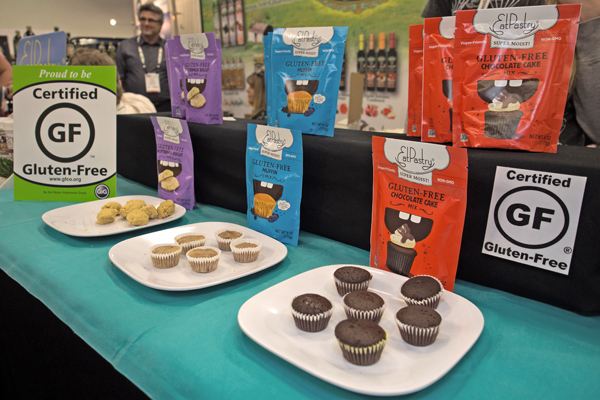 If you have a thing for cookie dough, you're probably already a fan of Eat Pastry's line of gluten-free cookie dough tubs. If you'd rather make your own baked goods, though, Eat Pastry has a new line of baking mixes just for you. Try these tasty things in chocolate cake, muffin, and even biscuit. Buy Eat Pastry baking mixes and cookie dough at stores nationwide or online.
Enjoy Life
We couldn't be more excited about this new line of baking mixes from Enjoy Life, one of our favorite brands for gluten-free and allergy-friendly snacking. These aren't any ordinary baking mixes, though. Not only are they free of the top eight allergens, but they also have added protein and probiotics. If you've been looking for healthy Pancake & Waffle Mix, Brownie Mix, Muffin Mix, Pizza Crust Mix, and All-Purpose Flour that will work for all of your family and friends, this is it! Buy Enjoy Life baking mixes at stores nationwide or online.
Glutenetto
We've never had gluten-free versions of these Italian classics, and this was definitely love at first bite. Cookies con Amore makes Glutenetto cookies with love in all kinds of traditional varieties like Raspberry Linzer, Polentine, Nonnine, Biscotti, and more. These are perfect for a special cookie occasion, but we wouldn't blame you for introducing them into your regular cookie rotation. Buy Glutenetto cookie mixes at select stores or online.
Half Baked Baking Company
Do you like to share your gluten-free cookies with your gluten-free friends? Half Baked cookies are genius. Choose one of the delicious flavors like Ginger Chai or Blueberry White Chocolate, bake your cookies, and take them to go in the reusable cookie container. These are so good and so easy to bake! Buy Half Baked cookie mixes online.
Hidden Garden
We're all about making sweets a little healthier, and Hidden Garden does just that by sneaking veggies like squash, pumpkin, and beets into its cookies. Okay, so these cookies aren't health food (hello, butter), but they make sweet treats a lot more fun and nutritious. We love the Ginger Snaps (made with squash), though the Chocolate Chip (with pumpkin) and Red Velvet (beets) are a close second. Buy Hidden Garden cookies at stores throughout Canada and at a few in the U.S. We hope to see them throughout the U.S. soon!
Schar
Schar's new gluten-free croissants were some of the most buzzed about goodies at Expo West, and for good reason. These croissants taste just as sweet and buttery as we remember, and you can enjoy them plain or with hazelnut filling. Either way, they're the perfect brunch treat. Buy Schar croissants at stores nationwide very soon.
Hungry for more? Check out our picks for top gluten-free savory snacks, top gluten-free sweet snacks, and top gluten-free quick meals!