This week we're sharing the best gluten-free products from Natural Products Expo West, the biggest natural foods trade show in the U.S. It's tough to pick favorites, but someone's got to do it! Here are our picks for the top gluten-free sweet snacks at Natural Product Expo West.
Bakery On Main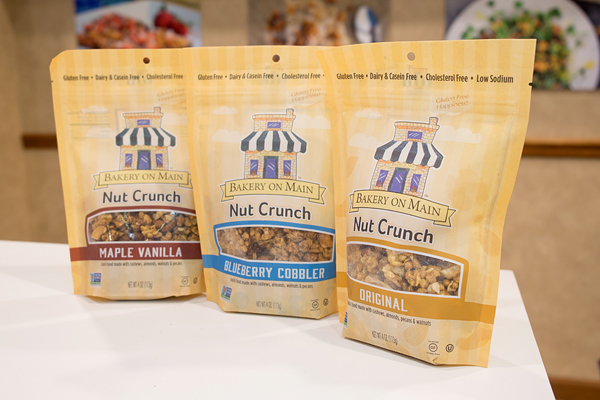 If you like a snack with a lot of crunch and a little salty to complement the sweet, you'll love Bakery On Main's new nut crunch line. With tons of cashews, almonds, pecans, and walnuts, these mixes are seriously nutty. With varieties like Blueberry Cobbler, Maple Vanilla, and Chocolate Orange, now you can enjoy some of your favorite Bakery On Main flavor profiles in nut crunch form. Buy Bakery On Main nut crunch at stores nationwide or online.
Don't Go Nuts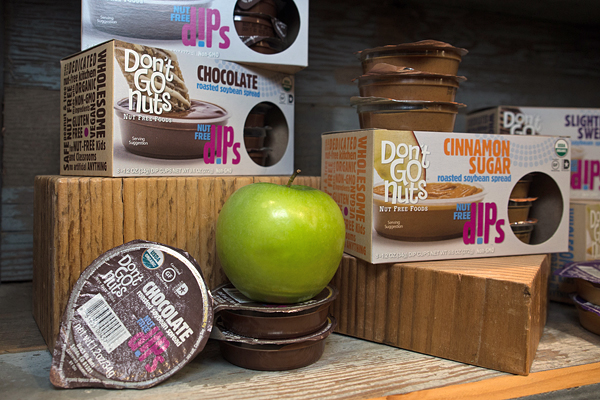 If you're looking for a nut-free alternative to nut butter or just a fun way to make snacking more enticing, Don't Go Nuts has a tasty new line of roasted soy butter spreads and dips. We like them best when used as a dip with sliced apples or other fruit, and the cups are great for snacking on the go. We're fans of Don't Go Nuts nut-free energy bars, too. Buy Don't Go Nuts at stores nationwide or online.
Funky Monkey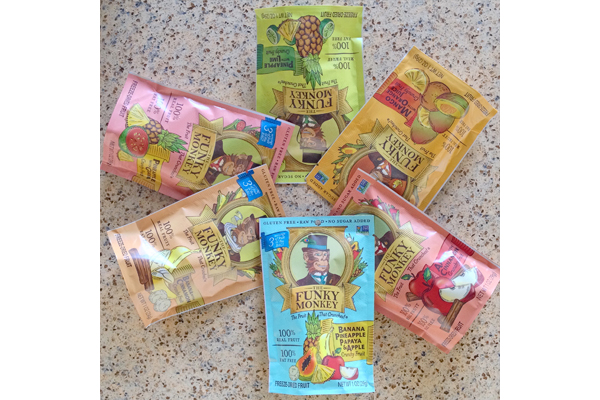 Funky Monkey dried fruit mixes are a great snack for kids without added sugar, but the flavors are complex enough to be fun for adults, too. We liked the pineapple with lime best, and we love that we can pack these raw snacks to go without worrying about squished fruit. Buy Funky Monkey online.
Go Raw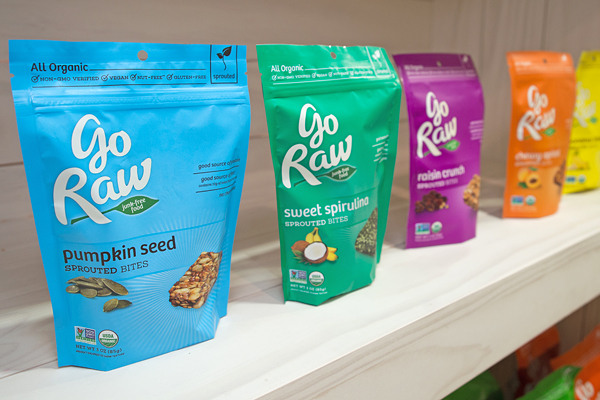 If you've tried Go Raw products before, you'll hardly recognize them now. After a complete redesign, the brand looks completely new. But that's not all: Go Raw introduced a line of sprouted bites to the family. With just sprouted seeds, dried fruit, and natural sweeteners, these tasty bites are the opposite of junk food—but just as addicting. Buy Go Raw at stores nationwide or online.
Health Warrior
Adding to their nutrition-packed line of chia bars, Health Warrior introduced a brand new line of chia protein bars. These have a whopping 2,000 mg of omega 3s, along with quinoa, pea protein, and other healthy ingredients. With flavors like Dark Chocolate Coconut Sea Salt and Lemon Goldenberry, these chia protein bars are great snacks for active people. Buy Health Warrior at stores nationwide or online.
KIND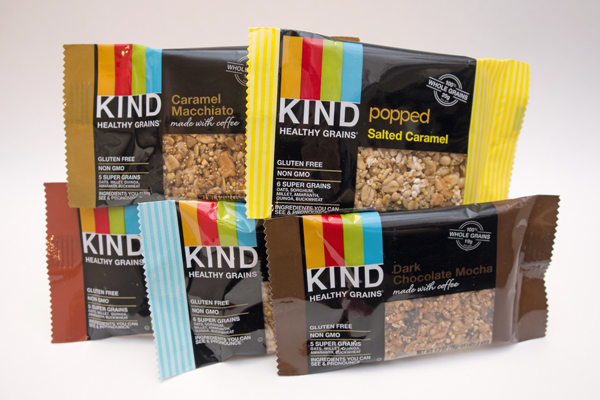 KIND fans, get ready to see your bar world expand significantly this year. At Expo West KIND introduced not one but two new lines of bars: popped and made with coffee. As coffee fans, we can't get enough of the chewy, crunchy, just-sweet-enough Caramel Macchiato and Dark Chocolate Mocha. They have just a little caffeine so won't necessarily replace your usual morning cup, but they do make the perfect coffee complement. stores nationwide or online.
Lola Granola Bar
If you've been missing homemade granola bars made with classics like oats, honey, sunflower seeds, and dried fruit, you'll love Lola Granola Bars. All five bars are made with a nut and fruit blend—no superfoods in sight—and taste deliciously homemade. Lola Granola Bars are certified gluten-free and made with clean, non-GMO ingredients to boot. Buy Lola Granola Bars at select stores or online.
Nature's Bakery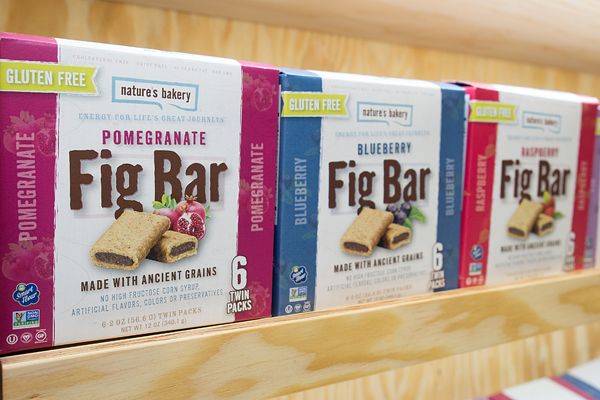 After wishing for years that we could eat Nature's Bakery fig bars, we were thrilled to find that the brand has introduced a line of gluten-free bars. They're made with a Smart Flour blend of ancient grains, so these dairy- and soy-free bars have a hint of teff, amaranth, and sorghum. You can find these gluten-free bars in four flavors: Fig, Blueberry, Raspberry, and Pomegranate. Buy Nature's Bakery bars at stores nationwide.
Nature's Path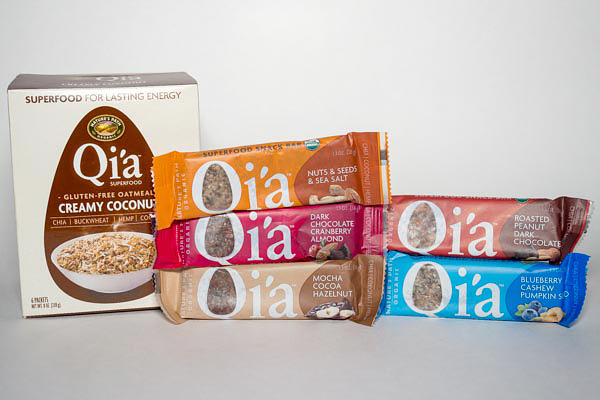 We know we can count on Nature's Path for healthy gluten-free and organic snacks, so we couldn't be happier with their new line of Qi'a products. Qi'a highlights nutritious chia seeds, and the bars are also packed with hemp, coconut, and nuts. We can't get enough of the Qi'a superfood cereal, which also features a hearty blend of oats, buckwheat groats, and hemp. Buy Nature's Path Qi'a products at stores nationwide or online.
Pamela's
We've had a tough time finding gluten-free graham crackers—let alone good ones—so Pamela's totally made our day with this new line of grahams. These are wonderfully sweet, and they're great by the handful or in mini s'mores. Try them in all three flavors: Honey, Chocolate, and Cinnamon. Buy Pamela's grahams and other products at stores nationwide or online.
Pure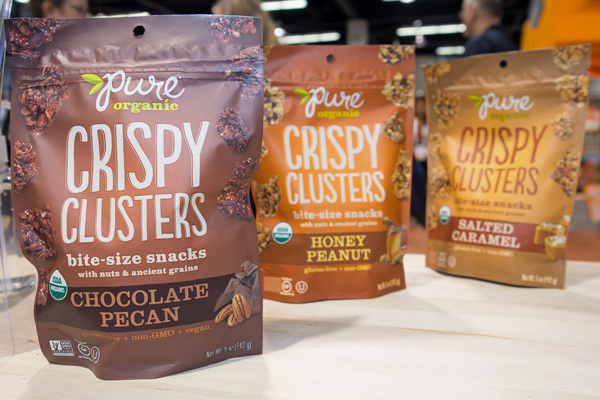 Already a fan of Pure bars? You'll love Pure's new crispy clusters, a bite-sized way to enjoy Pure goodness. These clusters are made with nuts, oats, quinoa, amaranth, flax, and other clean ingredients. Try them in Salted Caramel, Chocolate Pecan, and Honey Peanut. Buy Pure at stores nationwide or online.
Wildway
If you're looking for a grain-free granola that's full of flavor and nutritious goodies, Wildway is it. All three granolas are made with seeds, nuts, dates, and dried fruit. This chewy granola is great on yogurt or fruit, and it's also delicious on its own—especially in these easy to-go cups. Buy Wildway at Whole Foods or online.
Hungry for more? Check out our picks for top gluten-free savory snacks and top gluten-free quick meals!