This week we're sharing the best gluten-free products from Natural Products Expo West, the biggest natural foods trade show in the U.S. It's tough to pick favorites, but someone's got to do it! Here are our picks for the top gluten-free quick meals at Natural Product Expo West.
Ancient Harvest
Ancient Harvest is a pioneer in the alternative grain pasta world, and we can totally get behind their new protein-packed line. Since the pasta is made with a blend of beans and grains, the texture, nutrition, and taste are spot on. Choose from combos like Black Bean and Quinoa, Red Lentil and Quinoa, Green Lentil and Quinoa—and even three kinds of Red Lentil & Quinoa Mac & Cheese. Buy Ancient Harvest pasta and quick meals at stores nationwide or online.
Artisan Bistro
Artisan Bistro has changed the frozen food game with new gourmet meals for breakfast, lunch, and dinner. Breakfast bowls include Italian-Style Hash & Egg and Huevos Rancheros Verde, while the burritos, like Wild Alaskan Salmon & Poblano and Chicken Tinga & Chipotle, are perfect for lunch or a light dinner. All are gluten-free and great for a variety of tastes. Buy Artisan Bistro frozen meals at stores nationwide.
Boulder Organic!
After trying Boulder Organic! soup, we completely get why the brand has an exclamation point in its name. This is crazy good soup! You can find it in eight flavorful varieties, like Green Chile Corn Chowder, Roasted Tomato Basil, and Red Lentil Dahl, each organic and certified gluten-free. Buy Boulder Organic! soup at stores nationwide.
cooksimple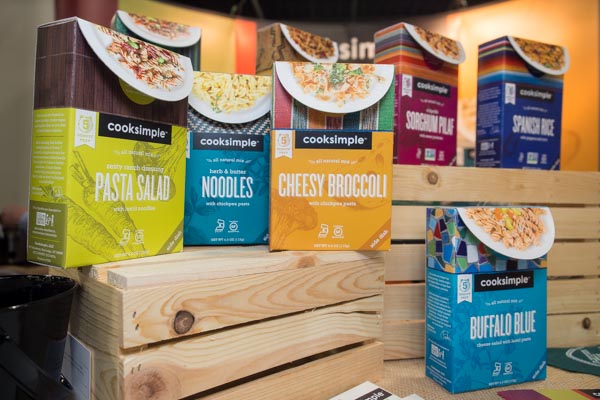 For a few years now, cooksimple has made our favorite meal starters. When we walked by this booth at Expo West, though, we hardly recognized old faves like Tamale Pie and New Orleans Jambalaya, thanks to cooksimple's complete redesign. That's not all, though. Cooksimple also added new meal starters and launched a new line of healthy side dishes like Buffalo Blue Cheese Salad with Lentil Pasta and Cheesy Broccoli with Chickpea Pasta. We can't wait to try them all. Buy cooksimple quick meals at stores nationwide or online.
Daiya
Daiya is making major steps into the frozen food market with some seriously amazing gluten- soy- and dairy-free product lines. Soon you'll be able to dig into six kinds of frozen pizza (we love the Supreme), three kinds of Cheezy Mac, and four kinds of Cheezecake (hello, Key Lime). Not only are these great for people with a range of food restrictions, but they are all majorly delicious as well. Buy Daiya quick meals at stores nationwide.
Modern Table
If you're always looking for a fast, healthy way to get dinner on the table, you're going to love Modern Table. All of these quick meals come with protein-packed lentil pasta, veggies, and flavorful seasoning. Fast and nutritious, these meal kits are great on their own but can also be the base for your creative meal. Buy Modern Table quick meals at stores nationwide or online.
Smart Flour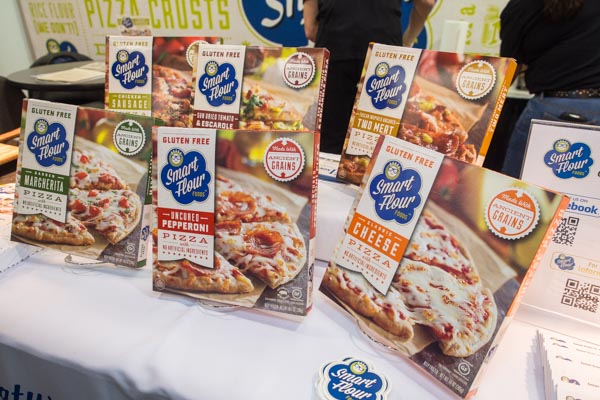 Already the best gluten-free frozen pizza on the market, Smart Flour just got even better with three new flavors. Look for Tuscan-Inspired Two Meat, Sun Dried Tomato & Escarole, and Chicken Sausage Smart Flour pizza soon, all with the same delicious ancient grain crust. Buy Smart Flour frozen pizza at stores nationwide.
Star Anise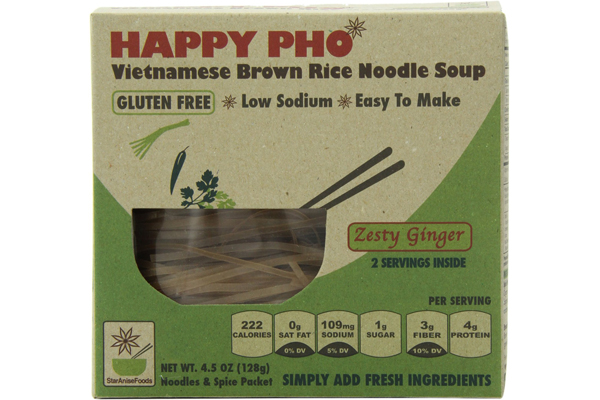 If you miss eating ramen and other instant noodle meals, Star Anise is right up your alley. The Vietnamese pho with mushrooms, ginger, garlic, or green tea are all zesty and made with gluten-free brown rice noodles. They're great for a quick lunch or delish as dinner with some added veggies and protein. Buy Star Anise instant meals at stores nationwide.
Ta Dah
Ta Dah's gluten-ful falafel wraps have always tempted us, so we are thrilled to see that the brand has launched a new line of gluten-free and vegan Falafel Poppers. Now you can create your own falafel wraps with flavors like Harissa Hummus and Lemony Roasted Garlic Hummus! Buy Ta Dah falafel poppers at stores nationwide.
Tasty Bite
Tasty Bite's gluten-free Indian meals are a reliable go-to for a quick and flavorful meal. We can't wait to try Tasty Bite's entire new line of instant Thai meals, like Thai Cashew Curry and Thai Bangkok Vegetables. Buy Tasty Bite quick meals at stores nationwide or online.
Van's
From Ultimate Cheddar Penne to Creamy Herb & Garlic Pasta to Rotini & Red Sauce Pasta, Van's has your gluten-free pasta needs covered. We love how quick, easy, and delicious these meals are on their own or with an added veggie or two. Buy Van's quick meals at stores nationwide.
Hungry for more? Check out our picks for top gluten-free savory snacks and top sweet snacks!