With over 70,000 attendees and 2,700 exhibitors from all aspects of the natural foods industry, Natural Products Expo West is the biggest trade show of its kind. The best part? Hundreds of exhibitors are there to show off gluten-free products, and many are there to launch brand new products. It's tough to pick favorites, but someone's got to do it! Here are our picks for the top gluten-free savory snacks at Natural Product Expo West.
Bearded Bros
With so many sweet bars to choose from, we heartily welcome a worthy savory bar. Bearded Bros do it right, with savory flavors that include Greek, Coconut Curry, and Texas BBQ (they are from Austin, after all). These are a fantastic addition to the Bearded Bros sweet energy bar line, which we also recommend. Buy Bearded Bros bars online.
Epic
If you're a jerky fan, you'll absolutely love Epic bars. These are made with meats like grass-fed bison, turkey, or lamb, along with some pretty wild blends like bacon + cranberry or habanero + cherry. The new flavors, including Pulled Pork Pineapple and Chicken Sriracha make for a zesty protein-packed snack. Buy Epic bars at stores nationwide or online.
I Heart Keenwah
These quinoa puffs are I Heart Keenwah's first foray into the savory market, and they are just about perfect. Bite-sized and crunchy, they're great for snacking, and since they're made with quinoa, rice flour, and pea protein, you can feel good about eating them. The sophisticated flavors—Herbes de Provence and Sea Salt Truffle to name two—make them even more of a special treat. Buy I Heart Keenwah at stores nationwide or online.
Lance
We loved cracker sandwiches like this as kids, and both kids and adults will love this brand new gluten-free version. Lance will be releasing these tasty cracker sandwiches in both cheddar cheese and peanut butter. You can find them at supermarkets nationwide starting in May 2015.
Navitas Naturals
When we're looking for super healthy snacks with clean ingredients, Navitas Naturals is always a go to. We especially love their Superfood+ Seeds and Nuts line, and the seven new flavors—including Turmeric Tamari Almonds and Chia Rosemary Pepitas—don't disappoint. For an extra kick, Navitas Naturals' Power Snacks line with cacao and maca are also a great choice. Buy Navitas Naturals at stores nationwide.
The New Primal
The New Primal makes seriously delicious jerky, and the fact that it's certified gluten-free (rare in the jerky world) and made with turkey or New Zealand grass-fed beef—and without preservatives—means it's even tastier. The new Trail Pack is a complete snack that's one of a kind, with beef jerky, raw nuts, and dried pineapple. Buy the New Primal at stores nationwide or online.
Pop Art
We love popcorn as much as anyone, but Pop Art truly takes this simple snack food to a whole new level. Flavors like Tandoori Yogurt, Thai Coconut Curry, and Nori Sesame give popcorn a global taste that we never would have thought to pair with this snack. These flavorful snacks are certified gluten-free. Buy Pop Art at stores nationwide or online.
Slow Food for Fast Lives
With their international savory bar line, Slow Food for Fast Lives has us dreaming of traveling far and wide. Though these snacks are made with normal foods—cashews, cauliflower, potatoes, and mangoes to name a few—they're not ingredients that you'd normally find in a bar. They're unusual and unique, and we can't get enough. Buy Slow Food for Fast Lives at stores nationwide or online.
Snack Out Loud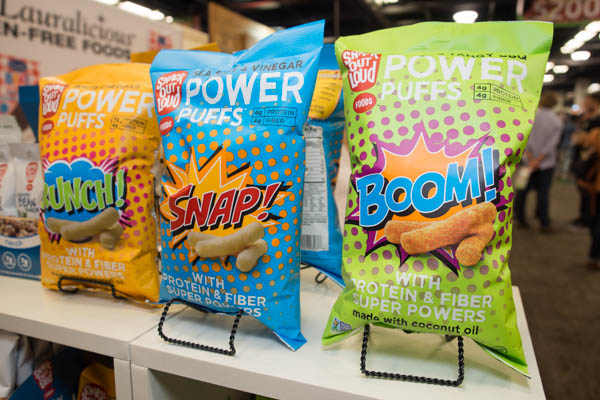 We love the growing trend of reformulating junk food and making it healthy again. Snack Out Loud Power Puffs are made with navy beans, brown rice, and coconut oil, so you can feel good about snacking. They also have a great, loud crunch and a fun superhero design. The tasty flavors include classic White Cheddar, along with Sweet & Tangy BBQ and Sea Salt & Vinegar. Buy Snack Out Loud at stores nationwide or online.
Two Moms in the Raw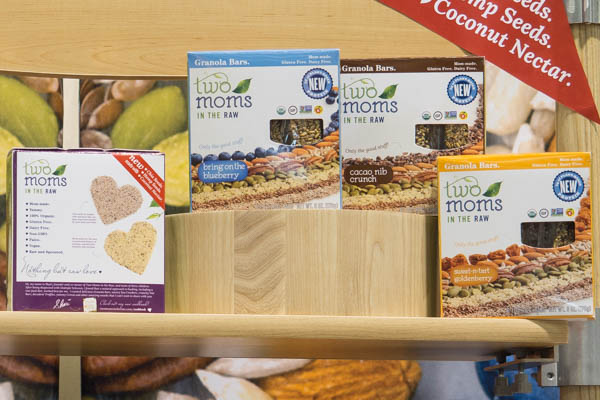 Healthy gluten-free crackers are few and far between, and we can't get enough of Two Moms in the Raw's take on crackers. These protein-packed crackers are organic and raw, and they're made with sprouted almond flour. Savory flavors include Zesty Italian Herb, Spicy Chipotle Pepper, and Jive'n Chive & Onion, and don't miss Sweet on you Graham, too. Buy Two Moms in the Raw in stores nationwide and online.
Hungry for more? Check out our pics for top sweet snacks and top quick meals!