Read more about G-Free NYC and all of our NYC picks in New York City: The Gluten-Free Guide, available now on Amazon.
G-Free NYC is a celiac's dream come true. Everything that this little Upper West Side shop sells is gluten-free, so nothing is off limits for shoppers with food restrictions. There's an extensive selection of frozen and shelf-stable gluten-free products, from the standard bread, pasta, sauces, cereals, and crackers to the more fun treats like pizza, ramen, macaroni & cheese, and cookies.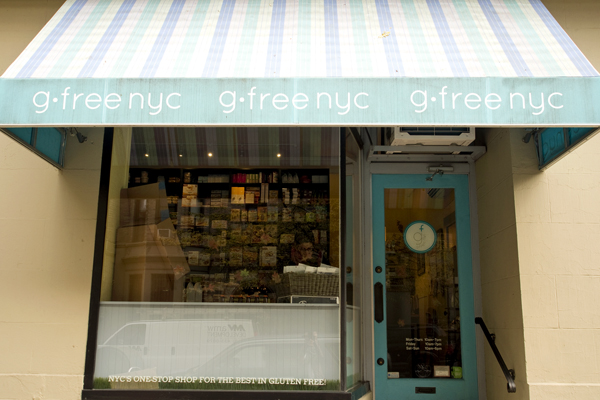 It doesn't stop there, though. G-Free NYC also offers baked goods from several local gluten-free bakeries. Fresh bread, cookies, and other sweets are on regular rotation from nearby bakeries including Tu-Lu's, Main Line Baking Co., Taffets, Free Bread, and the Gluten Free Bakery. Check G-Free NYC's website for the weekly schedule, and get your baked goods fresh out of the oven.
I've now visited G-Free NYC twice, and I'm amazed at how much this shop has grown over the course of a year. Owner Lynn Shuter is celiac herself, and she makes a point of stocking products that are as good or better than their "regular" gluten-ful equivalents. You won't find any dry cookies or cardboard crackers here!
Though you will definitely be able to purchase some of your go-to larger brands, like Rudi's and Van's, you'll also find yourself dazzled by the smaller and local brands, each one tempting in its own right. Be sure to try G-Free NYC's newest additions on sample days, and if you're based in New York City, sign up for G-Free to Go, the shop's weekly meal to go. If you're just visiting, stop by to discover some delicious new gluten-free goodies!
Note: Gluten-Free Jet Set first reviewed G-Free NYC in November 2013; all updates are from a subsequent visit in October 2014.
Where? G-Free NYC is located on the Upper West Side: 77A W 85th Street, New York, NY (646-781-9770).