Read more about Eight Turn Crêpe and all of our NYC picks in New York City: The Gluten-Free Guide, available now on Amazon.
Though I always do my gluten-free research before taking a trip, sometimes I'm pleasantly surprised once I'm on the ground. As our recent New York trip was coming to a close, we were making our way to Penn Station, pondering a cupcake dinner, when we stumbled upon Eight Turn Crêpe's sign advertising rice flour-based crêpes. Naturally gluten-free always gets my attention!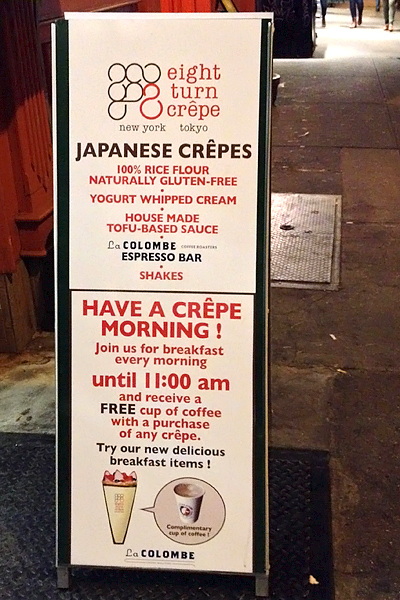 If the signage hadn't sold me on the concept of the gluten-free cone crêpe, the copious food models in the window certainly did. Once inside, the staff proved to be knowledgeable about gluten issues and assured me that not only are all of the crêpes made with rice flour, thus eliminating any possibility of cross-contamination on the hot plates, but also nearly all of the fillings and toppings are gluten-free. Only the teriyaki crêpes are gluten-ful. With so many tasty and reasonably priced ($6-$10 or so) options facing us, we did what anyone would do and got one savory and one sweet to share.
Double the Eggs, Double the Fun is one of the more basic options and comes filled with scrambled eggs, cheddar cheese, tofu sauce, and truffle salt. This was excellent: savory, filling, and rich. It would be great as breakfast, lunch, or dinner. For dessert, we opted for a special, the Black Sesame S'more, which came with black sesame, chocolate custard creme, whipped yogurt, chocolate truffles, chocolate sauce, almonds, roasted sesame seeds, and marshmallows. This was over the top, with the sweet chocolate and marshmallows, the rich and bitter sesame, and the tart yogurt. So delicious, and best shared.
I really can't rave enough about Eight Turn Crêpe, and I'm counting the days until I can try some of the other crêpes. Eight Turn is a cute shop with friendly and knowledgeable staff, lots of delicious and affordable options that are easy to eat on the go, and really quick service. This is my ideal fast food!
Where? Eight Turn Crêpe is located in Nolita: 55 Spring Street, New York, NY (212-334-3408).