Read more about all of our NYC picks in New York City: The Gluten-Free Guide, available now on Amazon.
After hearing so many raves about Wall & Water, the Andaz Wall Street's restaurant, I couldn't wait to try it out during our recent stay in New York. After reading through the online menu (always do your research!), though, I was nervous. Everything sounded great, but nothing was noted as gluten-free. Social media to the rescue! I tweeted my question about gluten-free brunch options to the Andaz Wall Street, and they got right back to me: yes, there are options, and be sure to ask the server for details.
Sure enough, our server was well-versed in gluten-free menu items, and she assured me that many of the egg dishes were safe or could be made so by serving them without bread. She steered me toward the portobello benedict, which came with giant portobello caps in place of the standard English muffins. This was an excellent recommendation. The rich eggs and sundried tomato sauce were nicely offset by the meaty portobellos and the generous portion of greens.
As if that wasn't enough food, Wall & Water was offering an amazing brunch special that included the cold buffet, coffee, and a Bloody Mary to go along with your breakfast entrée for $28. Since I am unable to resist a buffet, I had to go for the special. This one had a particularly impressive spread of seafood, including shrimp, smoked salmon, and oysters, along with a tasty selection of cheese and fresh fruit. After indulging, we rallied to walk through Lower Manhattan, across the Brooklyn Bridge, and back to Penn Station, totaling over ten miles. Brunch fuel well spent!
The Andaz Wall Street was a bit of a splurge, but well worth it. As Hyatt Diamond members, we were upgraded to a lovely, roomy suite, given full access to all food and (non-alcoholic) beverages in the minibar, and granted a $40 (each) breakfast credit at Wall & Water. With a brunch this satisfying, I can't wait to go back!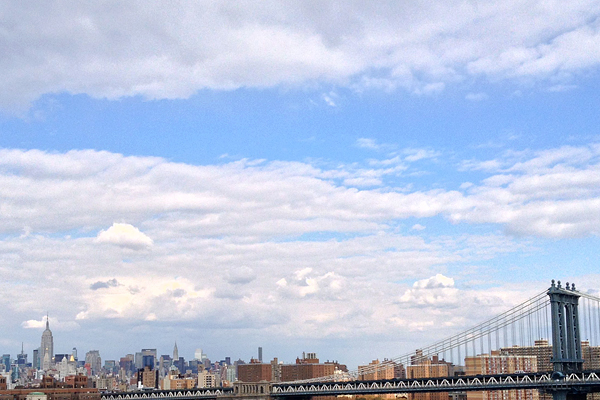 Where? Wall & Water is located in Lower Manhattan: 75 Wall Street, New York, NY (212-590-1234).