Hotel lounges and clubs can be lifesavers for celiacs and gluten-free travelers. Most lounges will provide a nice, relaxing spot to start your morning or end your evening, along with meals or snacks up to three times a day. While individual lounge offerings vary, simply prepared and naturally gluten-free options, including fresh fruits and veggies, are generally plentiful. Critical to gluten-free travelers, lounges also offer immediate access to staff who can answer questions about the food and its preparation. And most importantly, since lounge use is usually based on a loyalty program status, staffmembers are equipped to grant special requests in order to make your stay pleasant and memorable.
Gluten-Free at the Düsseldorf Hyatt Regency Club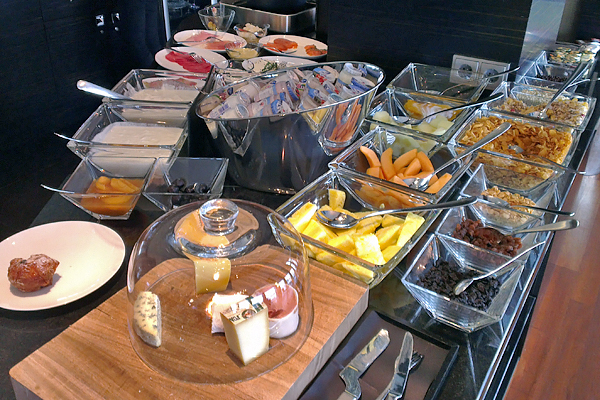 Access to the Hyatt Regency Club in Düsseldorf is a complimentary perk available to Hyatt Diamond members, a status well worth attaining for frequent travelers. The Club in Düsseldorf provides a generous breakfast and a cocktail hour for guests. Hungry for yogurt, fruit, cheese (from super stinky to aged hard varieties), smoked fish, and sausages? This Club has a full spread available for breakfast, and though gluten-free bread isn't provided, you're welcome to bring your own, easily found at the nearby bio market. The dinner spread is equally plentiful and includes cheeses, vegetables, and a daily selection of small plates. Be sure to ask the knowledgeable Club attendants about the menu, ingredients, and preparation each day. And don't forget a glass or two of Riesling!
Gluten-Free at the InterContinental Berlin
The InterContinental Berlin Executive Lounge is available to hotel guests on a sliding scale, priced according to room type and guest status. Much like the Club in Düsseldorf, the Executive Lounge in Berlin also offers a wide range of naturally gluten-free foods, including fresh veggies, salad, and cheeses, for breakfast, lunch, and dinner. For breakfast, the IC Berlin also provides packaged gluten-free müseli, a guaranteed safe and healthy option. In the evening, the Executive Club offers a well-stocked open bar, with a little something for everyone.
Gluten-Free by Request at the Grand Hyatt Club, New York
As seasoned gluten-free travelers know, it's always worth contacting your hotel before your trip. Many hotel lounges are prepared to accommodate special dietary requests, but some will need advance notice. Contact the Grand Hyatt Club in New York before your next stay, and the Club will be happy to provide gluten-free toast, made in a separate toaster. It never hurts to ask!
As always, maintaining balance while traveling is key. Hotel lounges can be safe, healthy options for gluten-free travelers. But lounge meals are even better when interspersed with the local gluten-free options outside of your hotel.