With its prime location on the Media Harbor and its lovely view of the city's skyline, the Hyatt Regency is the best place to stay in Düsseldorf. A short walk from the city center, a quick streetcar trip from the promenade along the Rhine, and a leisurely taxi ride from the city's cultural and outdoor attractions, the hotel couldn't be in a better location. Built in 2010 and outfitted with perfectly luxurious guest rooms, each with a great view of the city and surrounds, the Hyatt Regency really outdoes itself.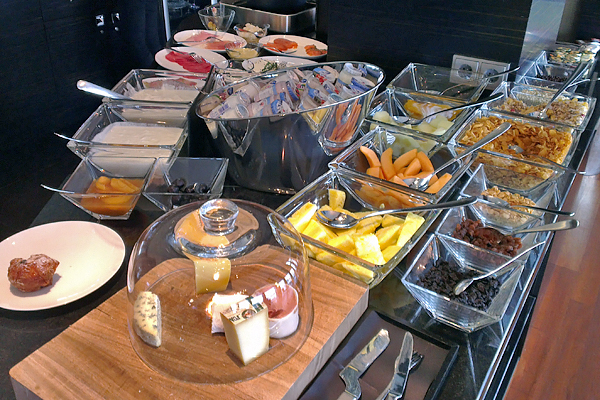 That is, especially when you take the Regency Club Lounge into consideration! A complimentary perk offered to Hyatt Diamond members, the lounge offers a generous breakfast and cocktail spread, as well as beverages and light snacks throughout the day. A concierge stationed in the lounge is also available to answer any questions you might have about the lounge's food and drink offerings, the hotel, or the city.
Breakfast is extensive and includes dozens of individually plated items: fruit, cheeses, yogurt, smoked fish and meats, nuts, and jams. Gluten-free bread is not provided, but guests can obtain their own from the nearby bio market, which has an ample gluten-free section.
Cocktail hour features a variety of hot and cold plates, ranging from grilled octopus to sashimi to herbed cheeses. The lounge staff are informed about the offerings and are available to address questions about ingredients and preparation as well as to refill your glass of Riesling.
As always, don't forget to venture out and explore. With the city's long list of cultural, seasonal, and food-based festivals, chances are you'll encounter at least one during your visit. If Düsseldorf isn't already on your travel dream list, add it now!
How did we get there? Düsseldorf is a quick hop away from New York City. We recommend flying with Air Berlin.
Where? Hyatt Regency Düsseldorf is located on Speditionstrasse 19, Düsseldorf (+49-211-91341234).