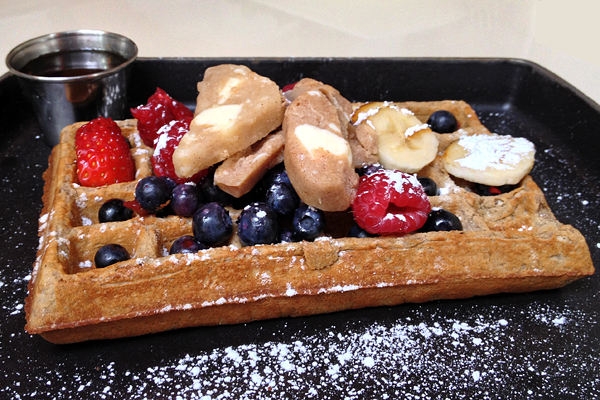 Read more about all of our NYC picks in New York City: The Gluten-Free Guide, available now on Amazon.
Breakfast can make or break anyone's day, so we consider morning food options carefully when selecting a hotel. As Hyatt regulars traveling to New York City, we have at least a half dozen hotel choices in Manhattan and at least another half dozen possibilities in the suburbs. What's the deciding factor, after considering location and price? Breakfast!
On an appropriately blustery weekend in March, we found a low rate at the Hyatt 48 Lex and snapped it up, knowing that this location would a be fantastic launching pad for exploring Midtown Manhattan. Of course, I was also sold on the breakfast, which we learned was served at Lexington Brass, the restaurant that adjoins the first floor hotel lobby and allows for great people watching on Lexington Avenue.
The menu, which, like any good celiac, I scoured ahead of time, promised gluten-free pumpkin spice waffles, and Lexington Brass absolutely delivered. Served with bruleéd bananas and fresh berries, this generously-sized waffle was delicious and filling, and the star of the breakfast table. Paired with a hot cup of coffee, it was the perfect way to start a Midtown morning.
And the Hyatt 48 Lex? Amazing as well. We scored a Corner Suite, one of the largest hotel rooms we've ever had in New York, and certainly the one with the most windows. The spacious lounge area opened up to a separate bedroom with a fun view of the busy streets below. Our only regret was having so much fun in the city that we missed happy hour in the Lexicon Lounge. There's always next time!
Where? Lexington Brass is located in Midtown East: 517 Lexington Ave, New York, NY (212-392-5976).