These days, with a travel-packed schedule and most meals eaten out or in transit, cooking is a luxury for me. It's reserved for brunches filled with friends, fun family get togethers, and those lovely opportunities when I have more than a few minutes to rub together. Since I don't have much time for experiments or baking fails, I always rely on trusted recipes and recipe developers. That's why I've been so excited to review the brand new Delight Gluten-Free Cookbook, which was written and tested by Vanessa Weisbrod, executive editor of Delight Gluten-Free Magazine, and her team. After enjoying the magazine's recipes for years, I knew that this cookbook would be nothing less than fantastic. Read on for my take on the book, a review of the delicious recipes I tried, and a cookbook giveaway!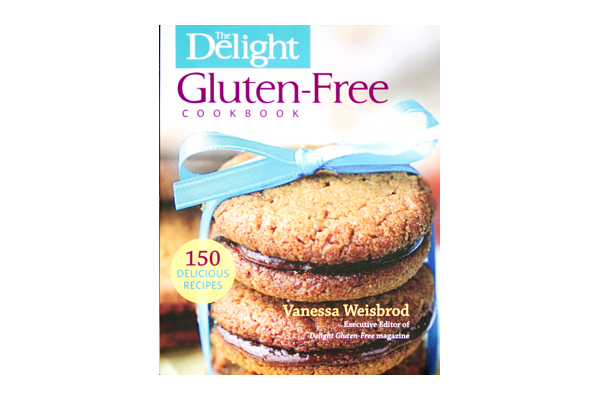 Delight Gluten-Free Cookbook Review
The book begins with tons of great information on the basics of a gluten-free diet, with charts of safe and unsafe ingredients, advice on where gluten-free foods hide in the grocery store, and even how to stock your pantry and refrigerator for gluten-free cooking and baking. I'm already a pro at shopping for gluten-free food, but I found the cookbook's sections on preventing cross-contamination in the kitchen and tips on mixing flours really helpful.
The cookbook's recipes follow in seven chapters: Breads & Baked Goods, Soups & Salads, Snacks, Vegetables & Side Dishes, Main Dishes, Desserts, and Cocktails. Select recipes are designated as fan favorites, pointing the way right to some of the book's highlights. There's a great balance of fresh salads, zesty soups, baked sweets, savory mains, and refreshing cocktails. Tempting as the sweets were (and still are!) I chose to focus on some savory dishes to give you an idea of how this cookbook can help you prepare delicious meals for every day or a special occasion.
Delight Gluten-Free Buttermilk Cheddar Breakfast Biscuits
Biscuits are one of the foods I miss most as a gluten-free eater. I've never seen biscuits on a GF menu, and it's been years since I've baked them myself. I knew I had to start with this recipe, especially with a weekend brunch in the works. These biscuits were super easy to make, and they baked exactly as described. For the flour, I used the new Bob's Red Mill gluten-free all-purpose flour and followed the recipe to the letter—aside from the biscuit shape. I went with square biscuits so gluten-free eaters could easily distinguish these from the regular biscuits on the table.
Let's just say that even though my expectations were high, they were far exceeded, thanks to these tasty morsels. These were SO GOOD and were quickly devoured by both GF and non-GF friends. The biscuits had just enough cheddar (see it peeking through in the photo above) to give them a decadent, savory flavor, and the the texture was nicely chewy. These are not flaky biscuits and might be a little different from the ones you remember, but I'd venture to say that they're way better. Just be sure to share with family and friends! Like most biscuits, these are not low calorie, but they are a must for your next special breakfast or brunch. [The beautiful serving dish pictured above was made by our friend and brunch hostess Laura Korch of Trout Ceramics.]
Delight Gluten-Free Cheesy Leek Risotto
Risotto is one of my favorite dishes to cook, especially for a mixed group of GF and non-GF family. It's a meal with so much flexibility and so many potential nutrition and flavor profiles. Whether you want to add asparagus, squash, mushrooms, or any other veggie or protein, risotto is the perfect base. What caught my eye in this recipe was the edamame, as it's a fiber-, protein-, and vitamin-packed veggie that I don't cook with often enough.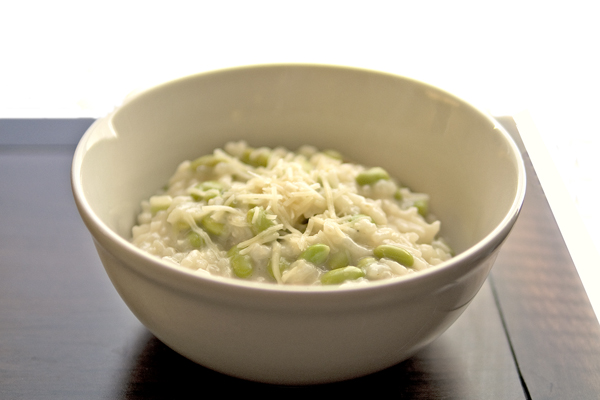 Another easy to follow recipe, this risotto turned out so rich and creamy. The arborio rice developed that lovely, soft chew, and the edamame nicely complemented the rice with its slight crunch. This dish falls into the Vegetables & Side Dishes section of the book, but it also works well as a main. The edamame provides plenty of protein and fiber, making this risotto a really well-balanced and tasty dish.
Confession: I also made the Creamy Chicken & Spinach Enchilada Casserole from the Delight Gluten-Free Cookbook, but reading the recipe inaccurately resulted in an absolutely delicious yet totally messy dish. I'll be making it again—the right way!—and definitely recommend this dish as well.
Delight Gluten-Free Grapefruit Smash
If I didn't believe it before, I do now: grapefruit and whisky were made for each other. This cocktail blends the smoky richness of whisky, the juicy bitterness of grapefruit, and the sweetness of ginger ale. Though delicious any time, this cocktail would be perfect for your next Kentucky Derby party.
Delight Gluten-Free Cookbook Giveaway!
The Delight Gluten-Free Team and I want you to try this cookbook for yourself, so we're giving away one copy to a lucky reader! Enter below to win, and we'll randomly select a winner on Wednesday, October 13th. The cookbook is also available for sale on Amazon and in your favorite book outlets.
Disclosure: Delight Gluten-Free generously provided us with a review copy of the cookbook. All enthusiasm and opinions are our own.