Read more about all of our NYC picks in New York City: The Gluten-Free Guide, available now on Amazon.
One of the many benefits of traveling the way that we do (by generating points in a variety of hotel, airline, and other diverse programs) is that we can almost always change travel plans both inexpensively and at the last minute. For example, we had a long weekend in Minneapolis planned for this past weekend. We had intended to fly to Minneapolis using our Southwest Rapid Rewards points and Companion Pass, stay at the Hyatt Regency Minneapolis, and wander around town, slipping into coffee shops and gluten-free bakeries to warm up every so often.
Instead, just a few hours before departure, we decided to spend the weekend in New York instead. Our first order of business was canceling the existing plans. Fortunately, Southwest flights are easily cancelable, and our points were refunded right away. Since the Hyatt reservation was not prepaid, we were able to cancel that with no charge as well. The second order of business was planning the new trip, and so we booked tickets on Amtrak right away. A quick scan of hotel possibilities in Manhattan indicated that many were available, so we planned to take advantage of Amtrak's wifi to hash out the rest of the trip.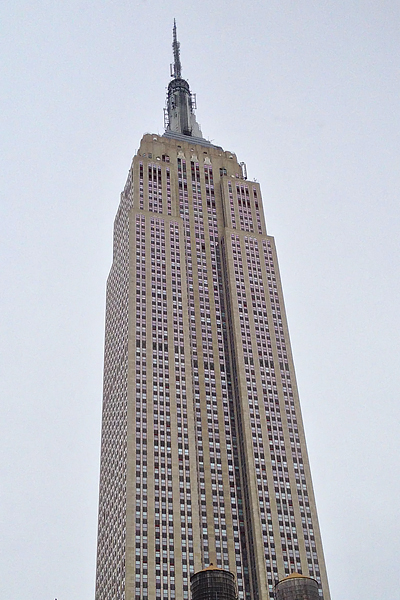 The newly renovated Holiday Inn in Midtown proved to be an affordable, convenient, and surprisingly upscale choice. I would stay there again in a second. Just a few blocks from Penn Station, Times Square, and countless other destinations, the hotel was also quiet, clean, and a nice refuge from the city. Plus, who could complain with such a great view of the Empire State Building?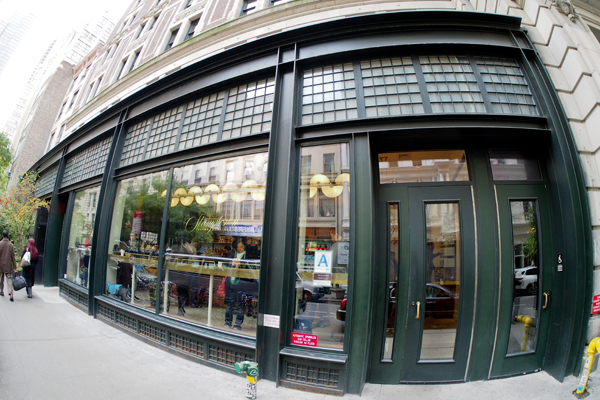 Our first stop the next morning was just down the street, at one of the two Stumptown Coffee locations in Manhattan. Having thoroughly enjoyed Stumptown coffee on previous trips to the west coast, we were willing to brave the long line at the 29th Street location, which snaked around the counter and through the door to the neighboring Ace Hotel. We had read beforehand that Stumptown offered gluten-free pastries, and though no signage in the coffee shop supported that research, the baristas were quite knowledgeable about GF offerings.
In a separate refrigerator, free from cross-contaminants, Stumptown keeps a selection of brownies from Los Angeles-based gluten-free bakery choc. Fudgy, impossibly rich, and packed with intriguing flavor combinations, choc. makes hands-down the best GF brownies I've had. I opted for the peanut butter and honey brownie, which is every bit as chocolatey, peanut buttery, and dripping with honey as it looks. Not my typical breakfast, but hey, we were on vacation!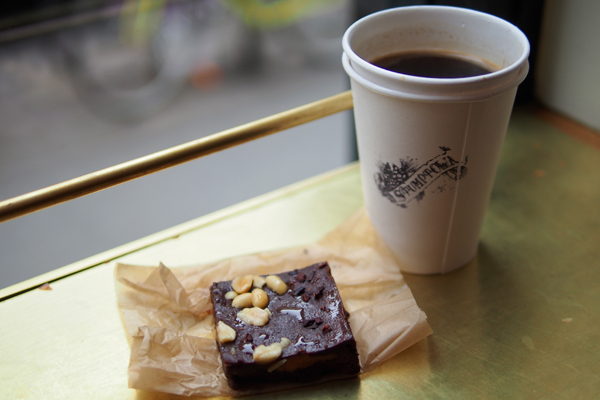 Stumptown also makes a delicious cup of coffee, best savored with a choc. delicacy. Though the Midtown shop doesn't offer seating, I recommend taking full advantage of the standing area at the window and enjoying the people watching while you wait for your espresso or your expertly brewed drip coffee. Once you've been appropriately fed and caffeinated, you'll be ready to take on Manhattan!
Where? Stumptown Coffee is located in Manhattan: 18 W 29th Street, New York, NY (347-414-7805).