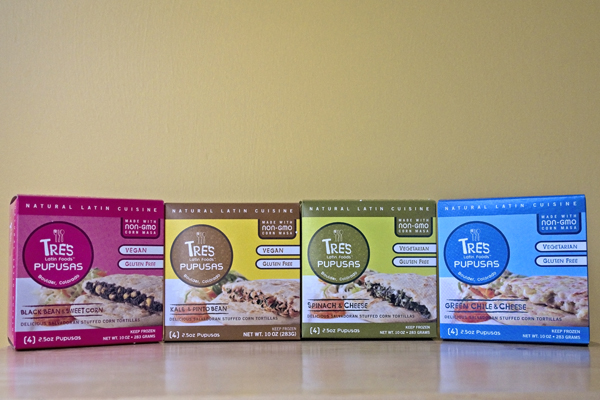 When the Gluten-Free Jet Set team makes the difficult decision about where to travel next, more often than not, food will tempt us one way or another. After sampling the line of corn-based pupusas from Tres Pupusas, let's just say we can't wait to plan a Central America trip to sample more of these delicious Salvadoran treats!
Tres Pupusas Review
If you're not up to speed on Salvadoran cuisine, pupusas are essentially thick corn (or masa) tortillas stuffed with a variety of savory fillings—typically cheese or a mixture of cheese and ground pork. All five of Tres Pupusas' varieties are vegetarian and two are vegan, so they're perfect for nearly any appetite. (If you don't like tasty food, though, sorry: you're out of luck here.) What's more, since pupusas are corn-based, Tres Pupusas are all naturally gluten-free!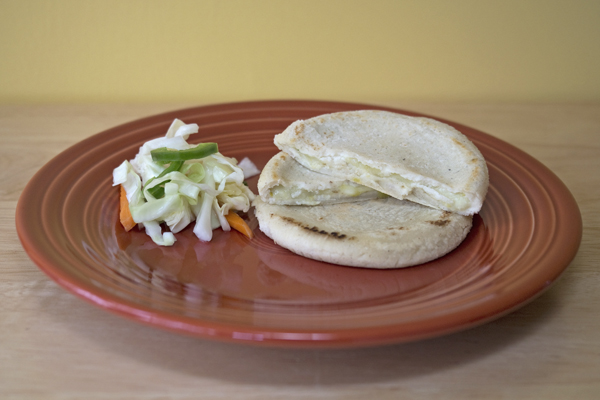 Pupusas are typically enjoyed with curtido, kind of a spicy coleslaw without the mayo. It's the ideal pairing for the dense, delicious pupusas. Tres Pupusas includes a recipe for curtido on the bottom of each box, and you can easily modify it to your liking. We skipped the onions and added extra jalapeños for a little extra heat. Of course, we also experimented with plenty of other garnishes, from zesty pico de gallo to spicy guacamole to fresh avocado. Verdict: the lightest vegetable-based pairings are best with these pupusas.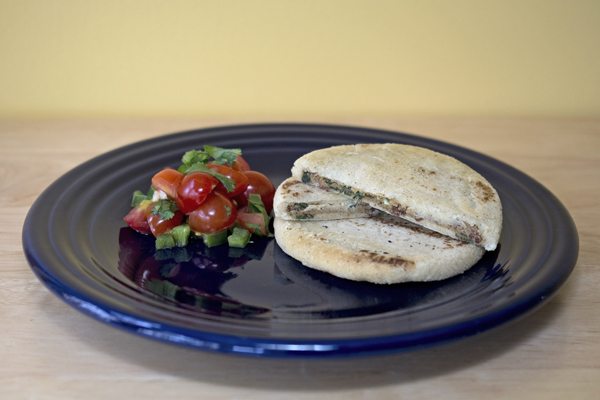 Though we love the more traditional Green Chile & Cheese, with all of its green chile and gooey cheese goodness, Tres Pupusas' more innovative varieties also completely won us over. Spinach & Cheese is nicely balanced with more of that tasty cheese and plenty of leafy spinach. Black Bean & Sweet Corn is packed with flavorful black beans and corn that adds just a touch of sweetness. Kale & Pinto Bean pairs everybody's favorite green veggie with hearty and well-seasoned pintos.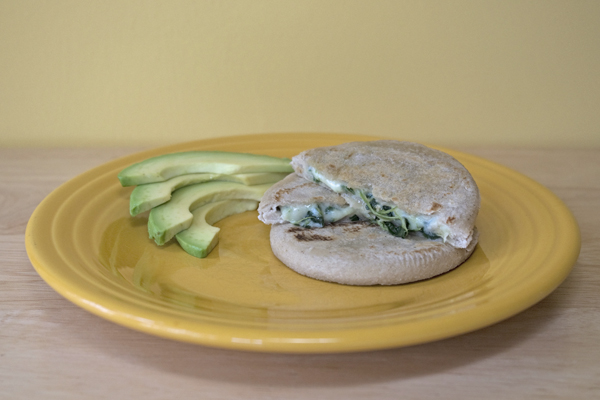 Not only are these pupusas a tasty, filling, and healthy meal, they're also incredibly easy to make. Keep your Tres Pupusas frozen, and when you're ready to eat, simply pan-fry them on medium heat for about six minutes, or until they develop a light golden tone. Serve them with your favorite garnish and daydream about your next trip to Central America!
Tres Pupusas Giveaway!
Don't worry, you don't have to travel far to try these pupusas. We've partnered with Tres Pupusas to give you a chance to try them for yourself! Enter the giveaway below to win product coupons for two Tres Pupusas varieties of your choice. We'll randomly select THREE winners on Friday, January 23rd!
Where to Buy? You can purchase Tres Pupusas in the frozen section at Whole Foods (available nationwide starting in February 2015), Sprouts, and other supermarkets and natural food stores across the country.
Full Disclosure: Tres Pupusas is a sponsor of Gluten-Free Jet Set. We love their gluten-free and vegetarian pupusas, and we know you will, too. As always, all opinions and enthusiasm are our own.