Like many gluten-free eaters, I'm always a little wary of sweeteners. Now, don't get me wrong—I have a major sweet tooth, as the many cake-related posts on this site can attest. As a gluten-free consumer, though, I'm a label reader. If a product has artificial sweeteners, mystery ingredients, or ridiculous amounts of sugar, it goes back on the shelf. When I read the Kickers Powdered Fruit Blends label, I was intrigued. A sweet flavor enhancer made with fruit powder, cane sugar, and spices? Pretty straightforward. Non-GMO, no preservatives, corn syrup free, no weird additives or fake colors? Even better. Gluten-free? Totally on board!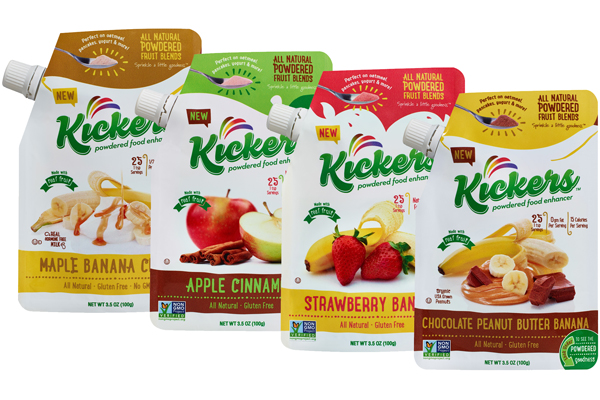 Kickers come in four flavors—maple banana cream, apple cinnamon, strawberry banana, chocolate peanut butter banana—and the first ingredient in each is always dried fruit. Each one has a unique, intense flavor, and their possibilities are really endless. You can mix them into yogurt, sprinkle them on top of popcorn, add them to oatmeal, or go crazy and add them to your French toast. Read on to see how I tested out each tasty flavor.
Have you noticed that fruit-filled yogurt always has way more sugar than it should? Adding Kickers to plain yogurt is a great way to mix in some fruit for a nice, low sugar start to your day. With just 3 or 4 grams of sugar from Kickers, compared to 20 or so grams of sugar from packaged fruit yogurt, this is definitely a healthier option. Here I went with the strawberry banana, which was a flavorful and fruity choice.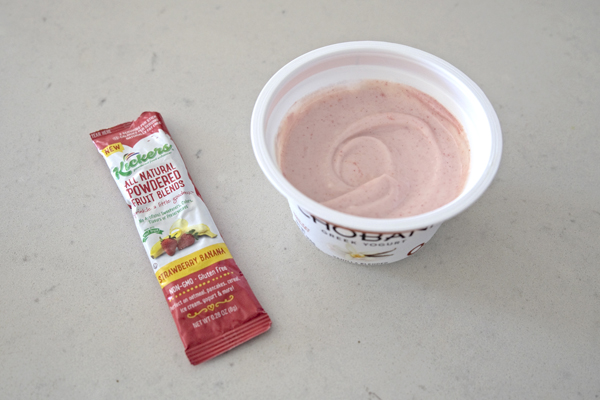 I love a hearty bowl of gluten-free oatmeal in the morning, but eating plain oats is no fun. Sprinkling a little maple banana cream Kickers on top transformed this breakfast from boring to tasty and rich. If you're making oats for a family of picky eaters, this would be a great way to let each of your little ones choose their flavor of the day. And yes, you can mix and match!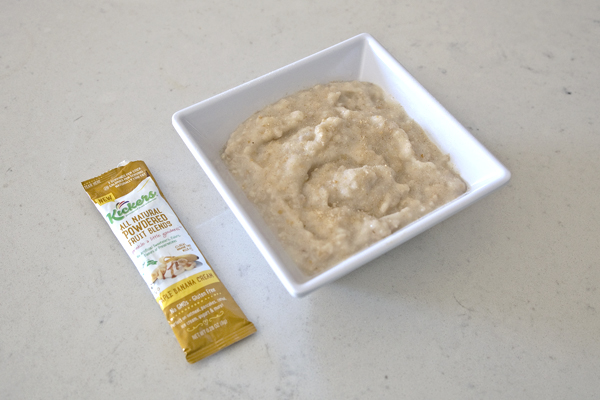 This may have been my favorite way to enjoy Kickers Powdered Fruit Blends: flavored spreads. Mix a little apple cinnamon Kicker in with your preferred buttery spread, and you've got the ideal complement to your toast, whether it's cinnamon raisin, multigrain, or plain. I used regular butter, but this would also be divine with margarine or coconut oil.
Topping vanilla ice cream with chocolate peanut butter banana Kickers is the perfect choice for dessert. Both salty and sweet, this was my favorite flavor, and I can't wait to find more delicious ways to enjoy it! How would you use chocolate peanut butter banana?
Kickers Powdered Fruit Blends Giveaway
In September I had the opportunity to attend the launch event for Kickers Powdered Fruit Blends at Natural Products Expo East. The excitement that the company's founder, Dave Waldman, has for his products is contagious. These natural food enhancers are tasty, healthy choices in our sugary world, and we want you to try and enjoy them as much as I did. Enter the giveaway below for your chance to win one of each 25-serving size Kickers!
Where to buy? Purchase 2-serving or 25-serving sizes directly from the Kickers website. If you can't decide on a single flavor, the variety pack is always a great choice!
Full Disclosure: Kickers Powdered Fruit Blends is a sponsor of Gluten-Free Jet Set. We believe in their all natural powdered fruit blends and want to share them with you. All opinions expressed are our own.