Berlin is a fascinating mix of old and new. Look closer, and you'll see elements of the city's many eras layered atop one another. Potsdamer Platz, in Berlin's Mitte, is the perfect example. Originally a convenient stopping point for 19th century Germans traveling to Berlin, Potsdamer Platz became the site of the area's busiest train station in the late 19th century, the center of Berlin's nightlife in the early 20th century, and later a desolate plaza bisected by the Berlin Wall. Today, the rebuilt plaza is the futuristic epicenter of the city's technology industry.
To thoroughly enjoy Potsdamer Platz's shiny new development, the centrally located Grand Hyatt Berlin is the place to stay. Not only does the hotel offer quiet luxury and clean, minimal decor, but it provides excellent upgrades and impeccable service for Hyatt Diamond members. As a Diamond, you'll likely be assigned a spacious king room on the club floor, with full access to the Grand Club.
The club's breakfast and cocktail offerings are both generous and delicious. In the morning, you'll find ample smoked fish and meats, cheeses, fruit, nuts, yogurt, and a hot egg dish. As usual, gluten-free eaters will want to fill up on these items and avoid the tempting pastry display. In the evening, you'll find vegetables and cheeses, along with a selection of hot dishes, wines, and beer. Be sure to ask about the ingredients and preparation involved in the hot dishes, as their suitability for gluten-free eaters will vary from day to day. The club staff is incredibly attentive and professional and will certainly do everything they can to ensure that you have an enjoyable and healthy stay.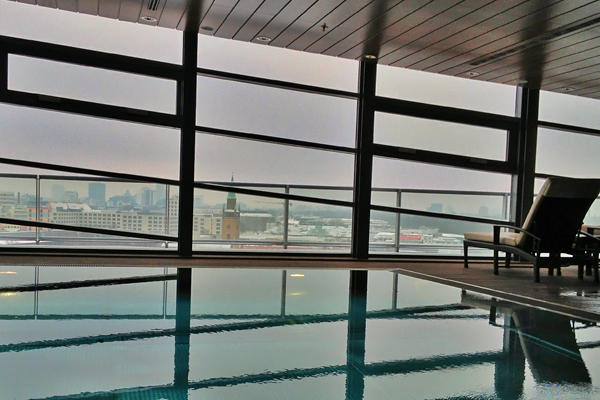 Diamond members are also granted access to Club Olympus, the Grand Hyatt's spa. The pool, hot tub, and sauna are all well worth spending an hour or two, especially if you happen to be staying during the winter months. The warmth, relaxation, and view of the Berlin Philharmonic and Neue Nationalgalerie make for a divine spa visit. Between Club Olympus, the Grand Club, and ultramodern Potsdamer Platz, we won't blame you if you never want to leave Berlin!
Where? The Grand Hyatt Berlin is located in Potsdamer Platz: Marlene-Dietrich-Platz 2, Berlin (+49-30-25531234).