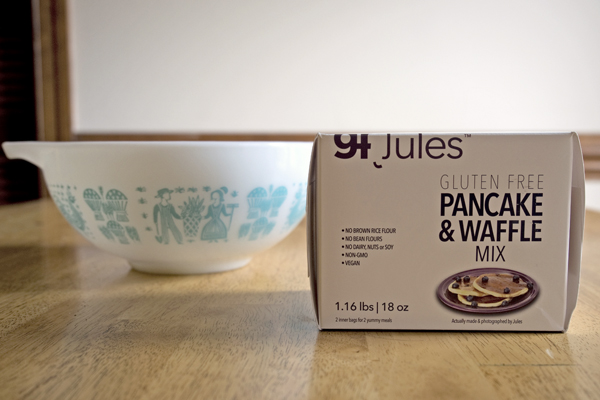 For years, gluten-free bakers have turned to Jules Shepard for her perfectly blended gluten-free flours and her expert baking advice. Since 2008, she has been the driving force behind her own exclusively gluten-free flour and baking mix company. Today, she heads gfJules and provides experienced and novice gluten-free bakers alike with some of the best pancake mixes, pizza crust mixes, cookie mixes, and flour blends on the market.
The gluten-free pancake & waffle mix and gluten-free graham cracker mix are two of our favorite gfJules products. We can't wait to share them with you and give you the chance to win them for yourself. Read on for our review of these tasty mixes, and don't miss the Real Jules, Real Good Giveaway at the end of the post. Enter soon—the giveaway ends on December 23rd!
gfJules Gluten-Free Pancake & Waffle Mix
Breakfast is usually a rushed affair for us, but these pancakes are worthy of a slow, leisurely morning. After all, who wants to rush pancakes? With one bite, these took me back to the buttermilk pancakes I enjoyed on special occasions as a kid—only these taste even better. Fluffy and buttery, gfJules pancake & waffle mix makes the best pancakes I've had, gluten-free or not.
This mix makes a total of about sixteen medium-sized pancakes, and each box is conveniently packaged in two separate bags. Make two smaller batches of eight, or make all sixteen at once! Intrepid bakers can even use the mix to make waffles, for even more breakfast variety. Add chocolate chips, top with bananas, or add your own personal twist to make them extra delicious.
gfJules Gluten-Free Graham Cracker Mix
Gluten-free eaters are often left out when it comes to graham crackers—but that's no longer the case, thanks to this mix. GfJules gluten-free graham cracker mix makes a huge batch of crackers that taste exactly like you remember. These crunchy (not crumbly) crackers are great for s'mores, as a graham cracker crust, and for snacking.
Even better, this mix can make gingerbread men with a few easy modifications. Add molasses, get your cookie cutters ready, and you're good to go for the holidays. If you need a holiday recipe or two to complement your gingerbread men, gfJules has tons of amazing resources.
The Real Jules, Real Good Giveaway
Whether you're a longtime fan of gfJules or want to try these baking mixes for the first time, we're excited to partner with Jules to give you the chance to get some of these for yourself. Enter the Real Jules, Real Good Giveaway below to win one each of the gluten-free pancake & waffle mix and the gluten-free graham cracker mix. The giveaway closes at the end of the day on December 23rd, and we'll randomly select a winner on December 24th!
Where to Buy? Purchase gfJules flour and baking mixes from gfJules's website and have them shipped straight to your house, or find them in your local store.
Note: Jules Shepard was formerly affiliated with the flour and baking mix company Jules Gluten Free, but as of early 2014, she no longer is. If you would like to purchase products Jules herself has formulated and designed, you want gfJules products.
Disclosure: gfJules generously provided us with baking mixes for review. All enthusiasm and opinions are our own.