With all of Paris's delicious food at our disposal, we knew we had to plan carefully to be sure we could fit it all in. After seeing one too many tempting but gluten-ful baguettes, crepes, and croissants around town, I knew that we had to visit the Galette Café. Situated in the 7th arrondissement, just off of the Left Bank of the Seine and Boulevard Saint-Germain, the café couldn't be more conveniently located.
En route to the café, we took in the view from the roof of the Pompidou, Paris's great modern and contemporary art museum that boasts an incredible roofdeck. After a long walk from the museum, across the Île de la Cité, and past la Sorbonne, we nearly missed the café, with its unassuming façade on a quiet corner. Once we opened the door and were greeted with savory smells and happy diners, though, we knew we were in the right place.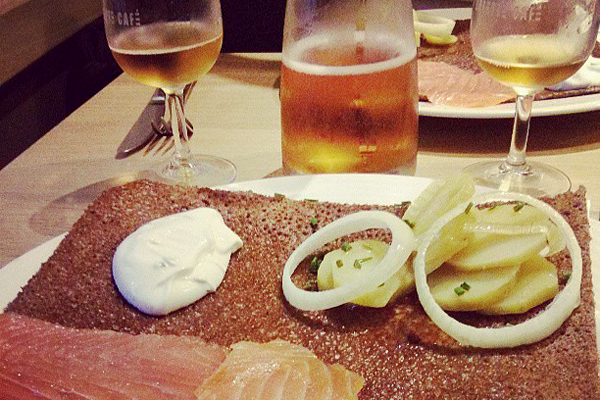 The café's menu clearly highlights the gluten-free offerings, of which there are many. Look for the buckwheat (farine de sarrasin) galettes! Over a dozen savory gluten-free galettes were available during our visit, making it nearly impossible to choose. Being almost incapable of resisting smoked salmon, I opted for the galette with salmon, potatoes, and sour cream. The galette was rich, earthy, and buttery, and it served as the perfect vehicle for the delicious toppings. Paired with a Breton cider to share, this was such an amazing meal, only made better by the sunset walk along the Champs-Élysées.
Have you tried the sweet or savory galettes at the Galette Café? The sweet galettes are on my must-do list for our next trip to Paris.
Where? The Galette Café is located in Paris's 7th arrondissement: 2 Rue de l'Université, Paris 75007 (+33-1-42-60-22-04).