During a long search for a genuinely tasty gluten-free bagel, we were thrilled to discover annaB's gluten free. This Richmond, Virginia-based bakery makes incredible bagels, but it doesn't stop there—annaB's also makes muffins, cookies, cakes, and tons more. annaB's is a 100% gluten-free facility, so celiacs can easily indulge, and the bakery has other major allergens covered, too. It's a soy- and peanut-free facility, and the staff can easily adapt recipes to be dairy- or corn-free upon request. If you ask nicely, they might even add your favorite recipe to their repertoire!
annaB's gluten free: Bagels
Reason #1 why annaB's gluten-free baked goods are so tasty is that each recipe includes a blend of several flours. Have you ever baked with a single GF flour and found your finished product to be grainy or crumbly? At annaB's, sorghum, tapioca, rice, potato, fava bean, and chickpea flours all work together in different combinations to produce the perfect gluten-free texture and crumb.
annaB's bagels get the texture exactly right. They have just the right amount of chew and doughy goodness, with none of the fluff or bready excess that we find in so many other GF bagels. Give these a quick toast, especially if you store your GF bread products in the refrigerator like we do, and add fixings accordingly.
For a basic savory or sweet bagel, it's hard to top annaB's plain or blueberry bagels. Delicious with just a schmear of cream cheese or your favorite quick topping, these also make great bagel sandwiches. To escalate things to bagel heaven, though, go right for the everything bagel. Garnished with a tasty mix of caraway seeds, poppy seeds, sesame seeds, and kosher salt, annaB's everything bagel is precisely what every breakfast sandwich needs.
annaB's gluten free: Muffins
Reason #2 why annaB's gluten-free baked goods are so tasty is that they're made without preservatives. Read through the list of ingredients, and you'll only see things that you can pronounce and that you can bake with at home. All the more reason to buy these baked goods fresh, enjoy them within a couple of days, and repeat.
While the blueberry muffin won us over with its rich vanilla flavor, moist buttermilky texture, and abundance of blueberries, we also loved the pumpkin muffin. Made with bean flours and flaxseed, the hearty pumpkin muffin has a nice subtle sweetness and autumn spiciness.
annaB's gluten free: Cookies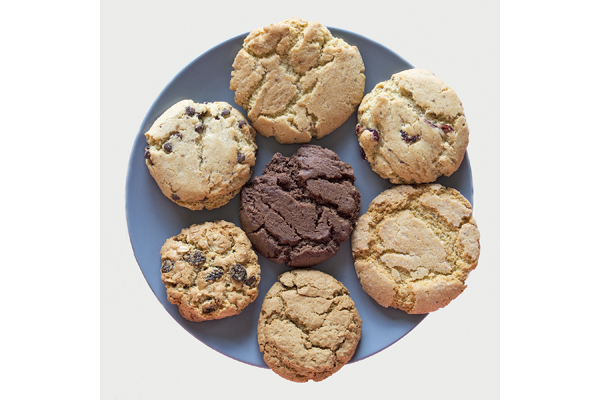 Reason #3 why annaB's gluten-free baked goods are so tasty is that they're packed with whole foods. Cranberries are the first ingredient in annaB's cranberry cookies. The oatmeal raisin cookies are made with GF certified oats and plenty of raisins. The molasses and snickerdoodle cookies get their nuanced flavor from dashes of real spices: cinnamon, ginger, and cloves.
annaB's bakes dozens of cookie varieties, and they're all the real deal. Big, dense, and crunchy, these are really satisfying cookies. We could eat the sweet, fruit-packed cranberry cookies every day, and we also loved the brownie cookie, with its perfect blend of sweet and salty.
Disclosure: annaB's gluten free generously provided us with product for review. All opinions expressed are our own.
annaB's gluten-free products are available in many Richmond-area markets, shops, and hotels and are available online via the bakery's website.