A thriving city bursting at the seams with art, architecture, history, politics, and technology, Berlin should be at the top of your "must visit" list. The good news? You'll find the vast majority of Berlin's hotels to be quite affordable, reasonably comfortable, and conveniently located to a variety of sites and attractions. But what if you're looking to splurge a little? You'll want to stay at the InterContinental Berlin on the city's west side.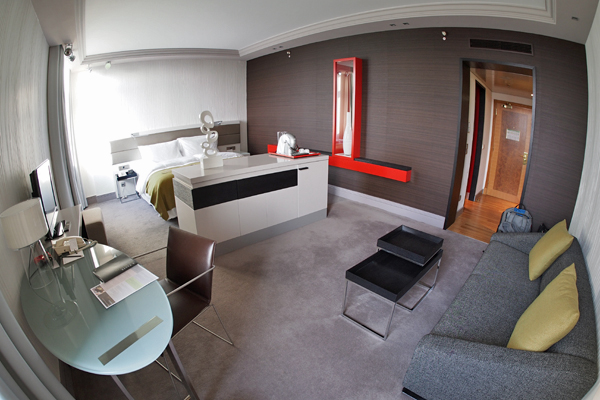 Book a Deluxe Room, and enjoy the IC Berlin's sleek contemporary design and massive, cozy bed. Do your best to secure a room in the IC's west wing, and you'll have a lovely view of Berlin's zoo and the city's expanses to the west. It's such a nice respite from the buzz of the city that you may be tempted not to leave your room, but you'll certainly want to venture at least as far as the IC's Executive Club, located at top of the hotel's east wing.
Daily access for two to the club costs between €65 and €90, depending on your status with IHG, and given all that the club offers, the cost is well worth it. A full buffet breakfast, including fruit, yogurt, cereals, sausages, and eggs to order, is available in the mornings. In the early afternoon, breakfast is replaced with a variety of cold snacks, including sandwiches, smoked meats, salad, and soup. The evening spread introduces hot foods, and a small selection of fish, meat, or vegetarian entrées are available each night. A dessert bar, with seemingly endless cake and custard choices, and a full wine, liquor, and beer bar, are also available in the evenings.
Gluten-free options in the Executive Club are plentiful but require a few questions and a little creativity. For breakfast, you'll want to focus on the eggs, fruit, yogurt, and prepackaged muesli, available in multiple varieties during a recent visit. For lunch and dinner, you'll need to ask questions of the English-speaking staff. Is the soup made with flour? Does the fish incorporate bread crumbs? How is the beef prepared? Answers will vary based on the day's offerings. The smoked meats, raw vegetables with various spreads, cheese selections, and salad, however, are always safe and tasty options.
Once you've luxuriated in the IC's Executive Club and enjoyed the view from your room, be sure to step out and explore the neighborhood. Kurfürstendamm is one of Berlin's best and busiest shopping areas for anything from international chain clothing stores to upscale department stores. Don't miss the Kaufhaus des Westens (KaDeWe), its gorgeous window displays, or its multiple floors of German snacks and restaurants!
Where? The InterContinental Berlin is located in stylish Kurfürstendamm: Budapester Strasse 2, Berlin (+49-30-26020).